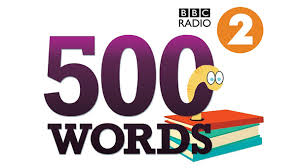 For the second year running, kids across Calderdale are writing their own exciting stories in support of the BBC's 500 Words campaign. Calderdale Council is encouraging all children and young people to take part in a fantastic local writing competition.
BBC Radio 2 has launched its national competition to encourage young people aged 13 and under to write a fictional story of no more than 500 words, for the chance to win great prizes for themselves and their local library.
The idea of 500 Words is to write a creative short story about any chosen subject. The competition is split into two age categories: 9 and under and 10-13, with three eventual winners being chosen in each age group.
Last year, ten year old Jake Roberts from Brighouse entered the competition and made it through to the national final. His fantastic story, 'Jeff the Hippie and the Mighty Mollusc – The Ancient Banana Blasters of Vindaloo' was shortlisted from 90,000 entries and made it to down to the final 25 in the 10-13 age group. Jake's story is based on a snail at the Eureka! Museum in Halifax and grabbed the attention of thousands of children across the UK, as well as campaign leader, DJ Chris Evans.
Calderdale Council wants to celebrate the successes of local children, like Jake, by encouraging as many entries as possible by locally and nationally.
The Calderdale competition is open to all children under 13 who live in Calderdale, and every child will be encouraged to write their own story. The judges will choose a winner in each age category, with an overall winner chosen from these.
Calderdale Council's Cabinet member for Children and Young People's Services, Cllr Megan Swift said:
"I think this is a great idea! The Calderdale competition running alongside the BBC campaign gives children the chance to showcase their talents both locally and nationally. There are lots of talented youngsters like Jake in Calderdale and I'd love to see even more fantastic entries this year.

"It's a fantastic opportunity to encourage children to write, and of course showcase the talents of young people. Don't forget to submit your child's entry in both the local and national competition"
The competition will be running throughout February 2014. The closing date for entries into the local competition is Wednesday 26 February 2014 at 7.00pm. Completed entries need to be typed up and sent to Lauren Lobley, PA Office, 4th Floor, Northgate House, Halifax, HX1 1UN. Alternatively, they can be emailed to lauren.lobley@calderdale.gov.uk.
Winners will be invited to an event at the Town Hall, with their parents/guardians, where they will receive a certificate and a prize for their fantastic work. All stories will be passed onto our judging panel, and children will be contacted at school by letter to let them know how well they've done. For more information about the BBC's 500 Words competition, visit the BBC web(external link) pages.