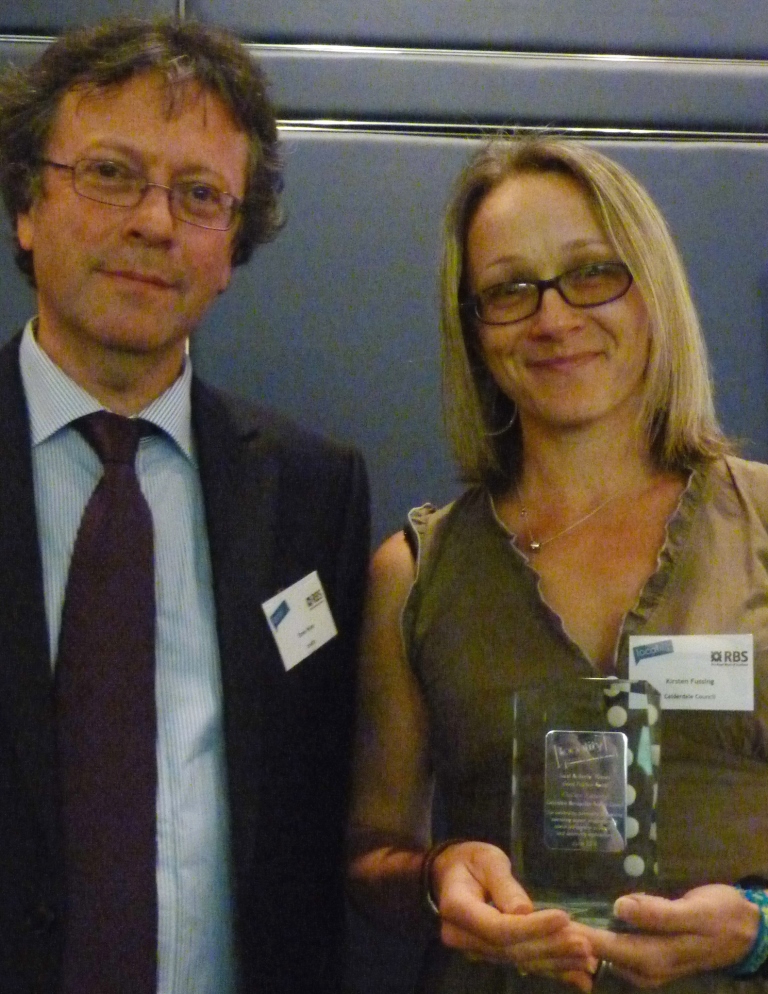 Kirsten Fussing, who works for Calderdale Council, has been named a 'local government hero' for going the extra mile to support community groups in the borough.
She received the prestigious title on 30 June in the Local Authority Heroes Awards run by Locality, the leading nationwide network for community-led organisations. The awards celebrate the country's councillors and council staff who have gone above and beyond the call of duty to support community organisations in their local area. All 'heroes' are nominated by local community groups and Locality members.
Kirsten works tirelessly as Neighbourhood Coordinator for Todmorden, supporting residents and community groups to shape their local neighbourhoods and making sure the Council enables them to do that. For example, Kirsten has recently played a big part in getting the Council's community growing scheme in Todmorden off the ground, working with Incredible Edible Todmorden and helping local people to join together to grow their own fruit and veg on unused land.
She was nominated as a local government hero by Incredible Edible Todmorden, a member of Locality, for championing their work and building up trust and strong relationships with the community sector in Calderdale.
Kirsten says:
"Winning this award has been a great boost for me, especially as it's recognition from the community that I am on the right lines and making a positive difference for them. I think the neighbourhood teams of which I'm part are a vital way to bring the Council to the people and make it relevant to them and able to respond to their needs, and to community groups' energy for positive and dynamic change."
Calderdale Council's Cabinet Member for Communities, Cllr Steve Sweeney, said:
"I'm delighted for Kirsten. She is extremely hard working and I know how much local people value the great support that she gives to the Todmorden community. She plays a huge part in helping our community groups continue to provide services that mean so much to residents."
Mary Clear, of Incredible Edible Todmorden, said they nominated Kirsten because:
"She is local, she is a community member so it matters to her how the environment looks and how well the schools do. As a community member she knows that kindness is king and celebrations large and small are to be cherished. Good practice is a combination of knowledge, values and energy; sometimes when it seems hardly worth the struggle, a good local authority has the key to unlock the gate of apathy."
Steve Wyler, Locality's CEO, said:
"There are some fantastic officers and councillors out there, whose hard work has been invaluable in helping to make a real difference in their local communities by growing and supporting community organisations and social enterprises in their area.
"Our Local Authority Heroes Awards are designed to celebrate the local authority staff and councillors, such as Kirsten, involved in outstanding partnership working, and say thank you to her and to them all, for all their work."
The Local Authority Heroes Award winners were announced at Locality's national policy event, held at the RBS building on Bishopsgate, Central London, on 30 June 2014.