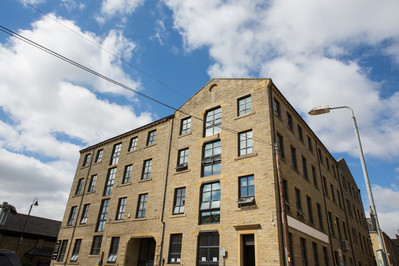 A new initiative to drive growth amongst early-stage and growing businesses in Halifax will be officially launched by Leeds Beckett University and Calderdale Council this month.
The University Business Centre, located at Piece Mill in Halifax, offers affordable office services and meeting spaces to early-stage and growing businesses, as well as access to professional business lounges and meeting facilities across Halifax.
It is the fourth Leeds Beckett University Business Centre to be opened – joining two other hubs in Leeds and one in Wakefield.
The University Business Centres provide a wide range of support, including Leeds Beckett business advice and mentoring, professional training and development, access to graduate talent and research expertise, and high speed broadband from partners Exa Networks. Further corporate partners including The Institute of Directors (IoD), Mid Yorkshire Chamber, Lupton Fawcett solicitors, the Ad:Venture partnership, WGN, Yorkshire Bank, The Yorkshire Post and Halifax Courier, are also on hand to offer free advice and support.
Leader of Calderdale Council, Councillor Tim Swift, explained:
"We're delighted to welcome Leeds Beckett University to Halifax, as it underlines our commitment and ambition to drive economic growth across Calderdale.

"We have a strong entrepreneurial tradition in Calderdale, with over 6,900 micro-business already based here. Our partnership with Leeds Beckett will help these businesses to thrive, inspiring innovation and sharing the knowledge and skills to encourage growth and the creation of new jobs."
Katie Rigarlsford, University Business Centre and Regional Business Development Manager at Leeds Beckett, said:
"Business is all about people and it is the fantastic operations team and business clients within our University Business Centres that makes them such a great place to do business. We really care about the success of our clients. By working with us, businesses can tap into a wide range of support from all our partner organisations as well as accessing a huge range of skills and expertise through engaging with an innovative and enterprising university."
A private launch event will take place on Tuesday 25 September ahead of the Calderdale Digital Shift Summit – a free event for young and growing digital businesses in the Leeds City Region – taking place at the Halifax University Business Centre on Thursday 27 to Saturday 29 September.
For more information about the event, please visit ad-venture.org.uk/digitalshiftsummit/(external link)
Professor Peter Slee, Vice Chancellor at Leeds Beckett University, said:
"Leeds Beckett is committed to supporting growth and prosperity in our region. This initiative is the latest example of this and will provide access to resources and knowledge that will accelerate growth in new and developing businesses."
Clients also have free access to Leeds Beckett's network of business lounges, which are shared with specialist member organisations, and have the opportunity to attend free networking events, where leading experts and entrepreneurs come together to inspire and support business growth.
Leeds Beckett's University Business Centres have been operating for more than 15 years. Over 250 businesses across the region are currently located in Leeds Beckett's private, shared and co-working spaces which to date have supported over 850 businesses to accelerate their growth.
For more information, and to arrange a tour of the University Business Centre, please visit