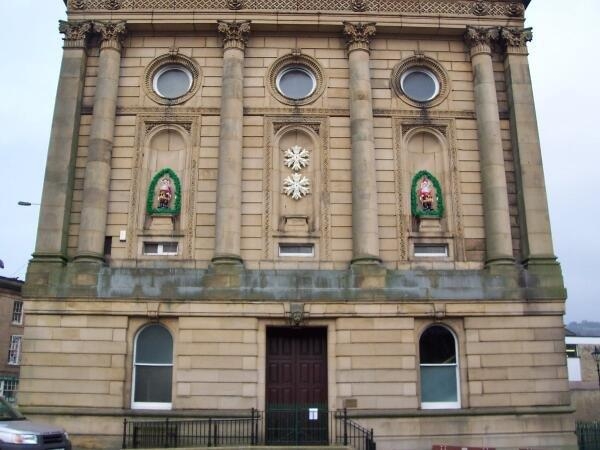 Todmorden Town Hall is set to benefit from a new lift, after Cabinet approved plans to replace the existing one.
 Last night, Calderdale Council's Cabinet agreed that the current lift was no longer reliable and approved an allocation of funds to install a new lift.
 Over recent years, a series of problems have occurred with the current lift, including a number of break downs. The Todmorden Development Board, which was set up by Cabinet in February 2013, has identified the revitalisation of Todmorden Town Hall as one of its priorities. The building is used for functions and events, and a new, reliable lift would allow the Town Hall to be more accessible, promoting usage.
 Following a report from specialist lift engineers, it became clear that the lift should be replaced, as the current platform was deemed as being at the end of its serviceable life. However, to install a new lift it is necessary to enlarge the current lift shaft, and make some alterations to the adjacent toilets.
 Cabinet has now authorised the funding for a new lift, from the Local Authority Business Growth Initiative. They have also agreed that an allocation of money from this fund can be used to submit a Heritage Lottery Fund bid to develop a small heritage resource for the local area, based at the Town Hall.
 Calderdale Council's Cabinet Member for Communities, Cllr Steve Sweeney, said:
 "It's great news that the lift will be replaced at Todmorden Town Hall. The impressive building has a fascinating history, and it's important that it continues to be a focal point for the town, which is easily accessible for everyone to enjoy."
 Calderdale Council's Cabinet Member for Economy and Environment, Cllr Barry Collins, said:
 "The current lift at Todmorden Town Hall is not fit for purpose and needs to be replaced. By utilising funds from the Local Authority Business Growth Initiative we can ensure that this happens as quickly as possible.

 "We are committed to revitalising Todmorden Town Hall and putting it back at the heart of civic and cultural life in the town."