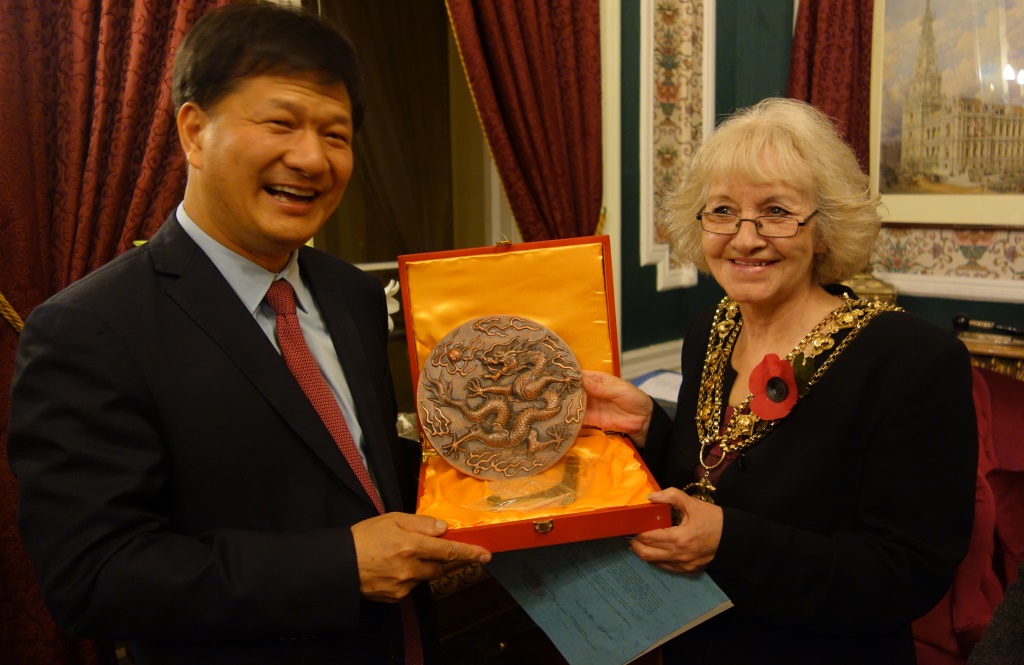 Delegates from the Chinese province of Jiangxi visited Calderdale this week, developing links to support tourism and economic development.
Six Chinese delegates visited Halifax Town Hall on Tuesday 28 October, where they met the Mayor of Calderdale, Cllr Pat Allen and the Leader of the Council, Cllr Stephen Baines.
Gifts were exchanged, and a formal agreement of friendship was signed, strengthening the relationship between the Jiangxi region and Calderdale. Greetland Academy also prepared a collection of work to give to the delegates, highlighting the possible opportunities to develop relationships between Calderdale and Chinese schools.
Like Calderdale, the Jiangxi is putting a major effort into developing tourism, having a similar combination of heritage and landscape, and is also developing its use of digital approaches to tourism and economic development. Its population of 2.3 million is only two hours away from Shanghai; it has beautiful landscape and is famous for being one of the birthplaces for Taoism. Formal links and friendship offer exciting potential to enhance visits to the borough, especially at a time when improved links by air between China and Manchester Airport are taking shape.
The Mayor of Calderdale, Cllr Pat Allen, said:
"It was lovely to welcome the Chinese delegates to Halifax, and I was proud to be able to show them Halifax Town Hall, and present them with local gifts and a traditional meal.

"The signing of the Friendship Agreement is the next step in an exciting journey; building links with China at a time when we are working to build ambition for Calderdale, enhancing growth and tourism."
The following day, the delegation visited Hargreaves Foundry, an established, family business in Halifax, perhaps most famous for providing cast iron for the sculptures of artist Antony Gormley.
The delegates were given a tour of the business, which has established links with China.
Michael Hinchliffe, Managing Director of Hargreaves Foundry, said:
"We were pleased and to be included in the reception for the delegation from  Jiangxi Province. We were also proud to show them round our foundry and demonstrate our unique manufacturing skills.

"We have been working with Chinese foundries for 18 years and have our own office in Shijiazwang in the Hebei province, so it was nice to meet representatives from another district."