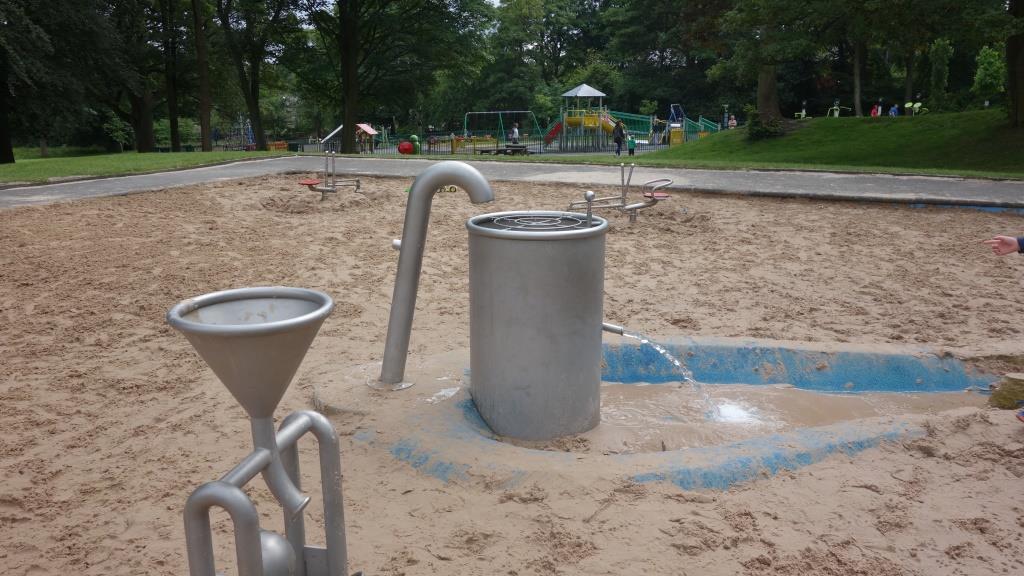 A state of the art sand pit with water has now opened at Manor Heath Park, bringing the seaside to Halifax this summer!
There's no need to make any long trips to the coast to enjoy the sun (hopefully) and sand this year, children can build sandcastles and paddle in the water in the safety of Manor Heath Park.
This is the largest water and sand play area in Yorkshire and took two weeks to build and six hours to fill with sand. It is free and open all day, every day and is already proving a great success with visitors.
Calderdale Council's Cabinet Member for Communities, Cllr Steve Sweeney, said:
"The water park at Manor Heath is fantastic.  The equipment, such as the sand digger and the water mill, allows the kids to be creative whilst having lots of fun. This is a great idea as it allows children to play outdoors in a safe environment and makes our public parks an appealing day out across all generations."
Sutcliffe Play Ltd designed the play area, taking into consideration children of all abilities. They have installed a wide range of natural play equipment, including an exciting water play system, sand tables and a sand digger, giving children the opportunity to play and create.
Kevin Sellwood, Area Sales Manager for Sutcliffe Play said:
"Playing with water and sand is irresistible to children. The new play area was designed to encourage creative, cooperative play as children work together to dabble and dam with the water and sand. We're sure children from the local area and beyond will continue to enjoy it for a long time to come."
Manor Heath Park Manager, Peter Oddy said:
"Public parks should have a range of facilities for people of all ages and at Manor Heath kids come to enjoy the park with their friends, parents and grandparents."
More information can be found from Park managers Peter Oddy and Mick Wilby on 01422 365631.