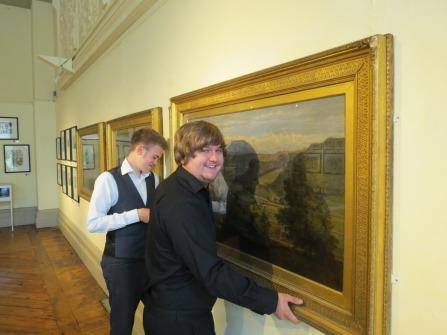 Art lovers in Calderdale have the chance to see a collection of stunning summer paintings, as part of a new exhibition in Brighouse. 
The Sum of Summer exhibition explores the beauty and happiness of summer through exquisite paintings from the Calderdale Museums' collections. The exhibition can be seen at the Smith Art Gallery in Brighouse and will run from 26July until 11 October 2014.  
The exhibition was put together by three museum apprentices; Christopher Wood, aged 21, Louise Harper, aged 20, and Oliver Clarke, aged 18. The planning and implementation of this exhibition has allowed the apprentices to gain essential experience that they can take with them after their time with Calderdale Museums has ended. The experience they have gained from creating this exhibition has been an important element of the NVQ course in Heritage Management which is part of the apprenticeship with the Museum service.
 One of the apprentices, Christopher Wood said: 
"Working at the Calderdale Museums service has been such an enjoyable and interesting experience, especially creating the Sum of Summer exhibition with Louise and Oliver. Being able to see all the amazing collections and getting them out on display has been unbelievably fulfilling." 
The inspiration for the exhibition came about as part of a continuous effort by Calderdale Museums to allow more people to view the beautiful, but lesser seen artworks which are part of the Council's collections. 
Calderdale Council's Cabinet Member for Communities, Cllr Steve Sweeney, said: 
"Calderdale Museums have some wonderful artworks as part of their collections. It's great that these young apprentices have been working hard to ensure that visitors to the Smith Art Gallery can view some of these rarely seen pieces. 
"They have not only created a stunning exhibition, but have gained valuable experience for their future careers." 
The exhibition will run throughout the summer and will coincide with the Brighouse Festival in September. It showcases several artworks from artists such as John Holland, Frank Brangwyn, William Mellor and Edmond John Neiman. 
For more information about this and other Calderdale exhibitions, visit museums.calderdale.gov.uk