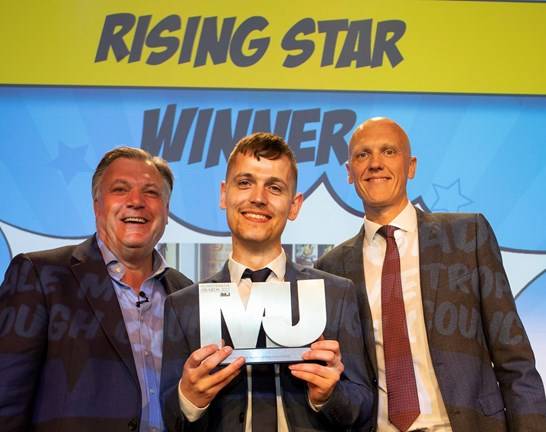 Mark Broadbent from Calderdale Council has been named the country's Rising Star at a prestigious national awards ceremony.
A local lad who is passionate about Calderdale, Mark has transformed the way the Council uses digital communications to get important and engaging messages to residents. His high-quality videos, social media posts and live virtual events have played a key role in helping people to stay safe, informed and entertained in the pandemic.
During his time at the Council, Mark has progressed from IT Apprentice to Digital Content & Engagement Officer.
He won the Rising Star category at this year's MJ Local Government Achievement Awards, which recognise the best in local government services and staff across the country, and enable councils to learn from each other. A Rising Star is a younger member of staff who shows exceptional ability, dedication and promise.
The judges were impressed with Mark's "…real dedication, creativity and innovation to digital engagement in Calderdale, both before and during the pandemic, keeping residents fully informed throughout. He has gone above and beyond to make a strong impact, engaging with various community groups and partners whilst really putting Calderdale on the map."
Cllr Chris Pillai, the Mayor of Calderdale, said:
"Mark is incredibly talented and a worthy winner of the Rising Star award. He is proud of Calderdale's heritage, culture, people and places, and his passion to make a difference for local people really shines through in his work.

"Mark has shown an impressive amount of enterprise throughout his time at the Council, especially during the pandemic, coming up with innovative film and social media content to provide a reassuring or entertaining voice when people have needed it most. Mark's work is a really important part of the Council's ambition to increase our digital presence."
Mark's recent highlights include:
Hosting 11 live COVID-19 Q&A sessions on social media with panels of Calderdale experts, attracting over 70,000 combined views.
Producing more than 20 COVID-related films, with over 132,000 views, including messages from Council and community leaders, NHS professionals and COVID-19 patients.
Personally organising a live virtual music and entertainment event with local celebrities to lift people's spirits at the start of the pandemic, attracting over 15,000 views.
Organising live red carpet interviews during the launch of the first series of the BBC and HBO's Gentleman Jack, with writer Sally Wainwright and the cast, attracting over 28,000 views and ensuring the series and the local filming locations received plenty of exposure.
Live streaming an interview with Helena Whitbread at Shibden Hall before the pandemic, with 12,000 views across the world, helping to promote Shibden and Halifax as heritage / visitor destinations.
Mark's achievement was recognised at the Council's recent Full Council meeting, where the Mayor presented his MJ award.
Mark wasn't the only one from the Council to be shortlisted in the MJ Local Government Achievement Awards. The Public Health team also reached the final in the Public Health Improvement category, for its amazing work on the local contact tracing service during the pandemic, delivering NHS Test and Trace in Calderdale in partnership with local and national organisations.
The Calderdale service has been a real success story, with local knowledge of communities combining with the data and resource of national systems to help reach more COVID cases, advise people of the importance of self-isolating and direct them to local support. Local expertise has also helped to identify hard-to-reach contacts and possible routes of transmission and outbreaks.