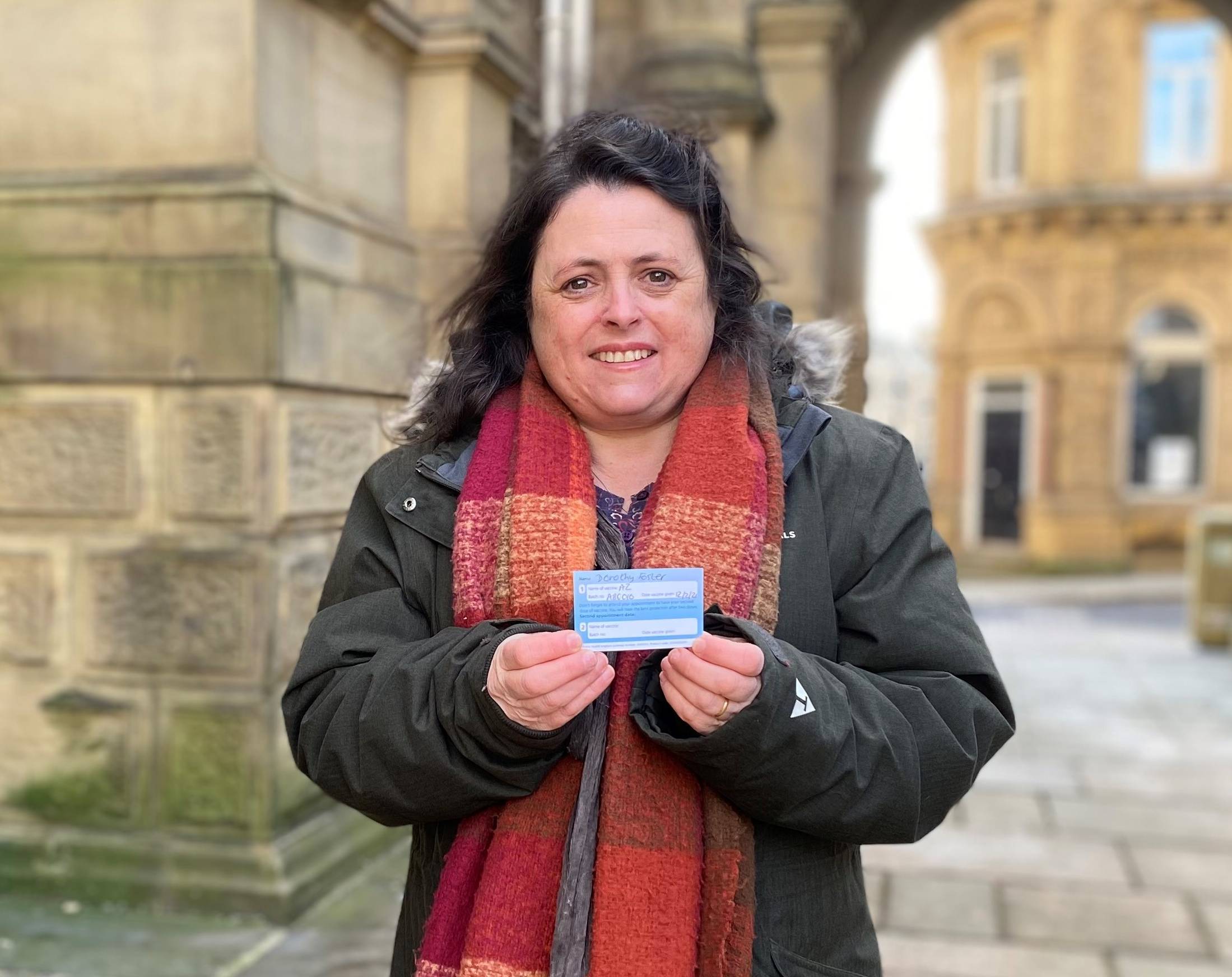 The Mayor of Calderdale, Cllr Dot Foster, has had her first COVID-19 vaccine and is encouraging other local people to have theirs if they are invited.
Cllr Foster is in one of the national priority groups for the vaccine. She is Clinically Extremely Vulnerable due to her chronic asthma and a condition which can affect the lungs and cause breathing difficulties.
Cllr Foster said:
"I booked to have my COVID-19 vaccine as soon as I was invited. I'm at greater medical risk from the virus, so I knew how important it was to get vaccinated to help protect myself and others.

"It's heart-breaking seeing the devastation that COVID-19 is causing. By getting the jab I feel I'm doing my bit in the fight against this awful virus. I'm going to keep doing what it takes to get it under control, including limiting my contact with others and wearing a face covering.

"I know people may be feeling anxious about having the vaccine, but it was really quick, easy and pain-free and the staff were lovely. I urge everyone who is offered a vaccine to go for it, and I thank all the amazing people who are working so hard on the rollout."
In Calderdale and across the country, the first people receiving their COVID-19 jab are those who are most at risk from COVID-19:
Residents in care homes for older adults and staff working in care homes for older adults
All people aged 80 and over, and frontline health and social care workers
All people aged 75 and over
All people aged 70 and over, and Clinically Extremely Vulnerable individuals (not including pregnant women and those under 16 years of age)
The rollout of the vaccination programme, in partnership between the NHS and the Council, is going very well in Calderdale. The borough is above the regional and national averages for vaccinating people in the priority groups.
The NHS is responsible for implementing the vaccine programme. The Council's role is to give public health advice so that the first people receiving the vaccine are those who are at greatest risk of death or serious illness from COVID-19.
Deborah Harkins, Calderdale Council's Director of Public Health, said:
"It's great news that Cllr Foster and so many other people in the priority groups have now had their first dose of the COVID-19 vaccine in Calderdale. I'm so grateful to all the staff doing the jabs and everyone involved in the programme, as they're giving our communities a wonderful opportunity to ensure that people at greatest risk of complications are protected. In time, I hope this will mean we'll be able to start doing the things we love again.

"The vaccine is safe, effective and our best defence against COVID-19. The more people who get vaccinated, the more chance we have of tackling the virus and getting our freedoms back. We're all in it together and I really encourage everyone to get their jab if they are invited.

"The full rollout is going to take time. You will be contacted when it's your turn, so please be patient. In the meantime, and even if you've already had the vaccine, we all need to keep doing the three big things to reduce the spread of COVID-19 and protect ourselves and our loved ones – limit our contact with others, wear a face covering and isolate if needed."
You may not be protected until at least seven days after your second dose of the vaccine. Like all medicines, vaccines can cause side effects. Most of these are mild and short-term, and not everyone gets them. Even if you do have side effects after the first dose, you still need to have the second dose.
Calderdale's current COVID-19 rate is nine times higher than at the end of August 2020. There has been a steady fall in the percentage of positive test results since the peak in early January 2021, but the rate is still too high and the risk is still with us. Hospital admissions for people who have tested positive for COVID-19 in Calderdale remain high.
It's important that everyone makes the most of the current national lockdown as an opportunity to protect local NHS services and other local essential key workers across the borough. Most COVID-19 cases in Calderdale are the Kent new variant, which spreads more easily, and this means we all need to do even more to reduce transmission than we did in the spring 2020 lockdown:
Keep doing the three big things to prevent the spread of COVID-19: stay at home and avoid contact, wear a face covering unless you are medically exempt, and self-isolate if you test positive or are a contact.
Get tested if you have symptoms of COVID-19, and if you have to leave the house to work, use the rapid tests available even if you don't have symptoms.
Get vaccinated if you are invited. It's important that anyone who is not in the priority groups waits their turn so that the vaccination programme can meet its purpose of preventing death and serious illness in those at greatest risk.
Seek the support available if you need to self-isolate but are struggling to do so.
On Friday 5 February, the Council hosted a Facebook live Q&A event about the vaccination programme in Calderdale. Nearly 4000 people watched the event at some point, which was chaired by Deborah Harkins (Calderdale Council's Director of Public Health) with panellists Neil Smurthwaite (Calderdale Clinical Commissioning Group's Chief Operating Officer and the Calderdale Vaccination Programme Senior Responsible Officer), David Birkenhead (Medical Director, Calderdale and Huddersfield NHS Foundation Trust) and Geetha Chandrasekaran (GP at Plane Trees Group Practice and Clinical Director for the North Halifax Primary Care Network).
For up-to-date and reliable information about COVID-19, use trusted sources such as:
www.gov.uk/coronavirus(external link)
www.nhs.uk/coronavirus(external link)