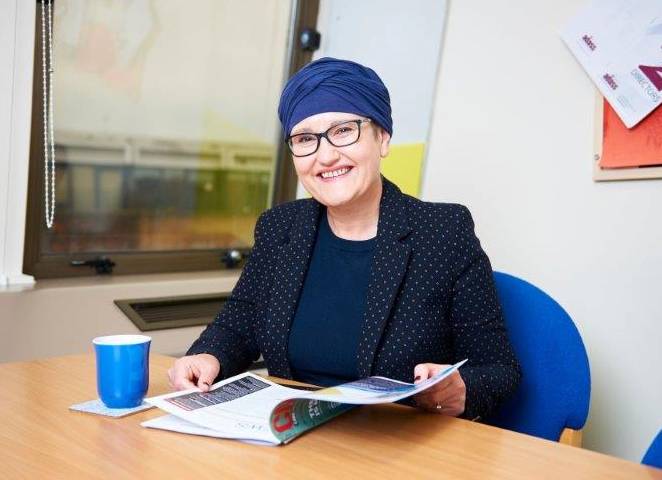 The first of August was four months to the day since I started working in Calderdale. I began my work here at the beginning of April, a couple of weeks into the national lockdown. I marked my four-month anniversary with the introduction of local restrictions, brought in because the borough has one of the highest COVID-19 infection rates in the country.
I have to say, these four months have been some of the hardest times in my 30 years working in public health. Just to give you some perspective, the only time that compares to this for me was the 6 months when I worked from a hospital isolation room as I underwent treatment for an aggressive form of Leukaemia, which I only had a 20% chance of recovering from.
Being the voice of doom doesn't come naturally to me. I try to find the positives in every situation, even being treated with a life-threatening illness! But I'm sorry to say that I'm writing this today to stress how serious the situation in Calderdale is, and to ask for your help to tackle COVID-19.
I have been out and about in the borough, talking and listening to people in our communities, and I have heard from many people how shocked they are that COVID-19 is still here with us. I heard that people made enormous sacrifices to keep infection rates low, and when the restrictions were lifted in June, they believed that things would start to return to normal and we could all start to enjoy the things we used to take for granted. People in high incidence areas told me they feel stigmatised and blamed for the situation we now find ourselves in.
When we look at the trends in confirmed cases in Calderdale, it's clear that too many restrictions were lifted too quickly. In parts of Halifax particularly, the infection rates are amongst the very highest in the country. The situation can change rapidly, and at the time I'm writing this, there are no areas in Leicester, Blackburn with Darwen or Luton, where the infection rates are higher than those we can see in some parts of Halifax. Infection rates in Calderdale are currently increasing faster than in any other borough in the Yorkshire and Humber region.
There's no evidence at all that these higher rates are because people in Calderdale are less likely to observe social distancing than people in other areas of the country; in fact, the opposite is true. During lockdown we had some of the lowest infection rates in the country. Although we only have limited information about how and where people become infected, the data we do have indicates that we are seeing COVID-19 cases in people who have been working in essential roles right throughout the lockdown. These are the people who care for us, feed us, serve us and transport us. Since lockdown has eased, these are the people who are more likely to come into contact with COVID-19. These are the people who should be celebrated rather than blamed!
I'm asking for your help today to bring the infection rate down. This is important to us all for many reasons. We all want to get our freedoms back so we can visit family and friends outside our households. Many of us will know people who are medically vulnerable to the serious effects of COVID-19 and will want to ensure that the infection rate remains low to protect them, as the national shielding programme ends and we prepare for the winter demands on health and care services.  Many of us will be concerned about our children's education and recognise that for them to be able to return to school we may need to make sacrifices in other parts of our lives.
We don't know why each case of COVID-19 happens, but we do know what we can do to slow the spread. Partners in Calderdale are determined to bring our infection rate back down to the national average. Informed by the evidence gathered over many years, and learning from other areas in the current crisis, we have agreed that we will:
Help prevent COVID-19 cases and outbreaks, by:
Sharing clear and consistent messages with the public.
Engaging with communities, particularly in high incidence areas.
Supporting businesses and employers to implement COVID-secure working practices
Identify COVID-19 cases quickly, by:
Increasing the amount of testing undertaken in the borough.
Improving access to testing for residents.
Using intelligence to target testing at people in high risk areas, settings and occupations, whether or not they have symptoms.
Reduce transmission of the virus, by:
Delivering local contact tracing to enhance the national test and trace service.
Providing support to people to enable them to self-isolate.
Enforcing coronavirus restrictions.
I am asking you all to think about how you can help us achieve these objectives.
It's also important that we all understand that if we are to successfully implement these actions, our infection rate will increase before it reduces. This is because we need to find more people with COVID-19, so that they can be supported to isolate to reduce the spread of the virus. This increase before the decrease has been seen in other areas that have successfully reduced the infection rate.
Contact Tracing Service
Because of our high infection rate, Calderdale has been given the opportunity to deliver a local COVID-19 contact tracing service to work hand in hand with the national NHS Test and Trace service.
This will be launched tomorrow, Friday 14 August, subject to approval at a meeting with Government on that day. The way this will work is that contacts from people who have tested positive for COVID-19, who have not been reached by the national service within 48 hours, will be passed to the public health team. We will then try to contact them, by text, phone or door knocking, to give them advice and support to self-isolate. The local service will be delivered by ourselves in partnership with local NHS organisations, local businesses and local voluntary and community groups, all of whom have in-depth knowledge of local communities, that no national service can ever be expected to have.
Here's how we can protect ourselves and our loved ones:
Wash or sanitise hands frequently
Practice good respiratory hygiene – Catch it, Kill it, Bin it
Avoid gatherings, crowded places and close contact with others
Don't visit or have visitors from people outside your household or support bubble in homes or gardens. This includes care home visiting
If you do come into contact with people outside your household or bubble, observe social distancing – stay at least 2 metres apart from others. This may not apply in your workplace depending on your job
Wear a face covering in enclosed spaces where there are people from outside your household or bubble (other than at work) such as in shops, taxis or places of worship, or during visits to NHS services.
For those of us who have symptoms or have been in contact with someone with the virus:
If you get symptoms, stay at home for 10 days, self-isolate and book a test online by visiting the NHS website. There are various testing options to suit your circumstances, including walk-in, home delivery and drive in.
If you are contacted by the test and trace service and told you have been in contact with a confirmed COVID-19 case, follow the advice you are given. This will be to stay at home for 14 days.
If you need support because you have been advised to self-isolate, visit Calderdale Council website and click on coronavirus on the front page. If you can't get online, call 01422 392890.
The Council and Police are working hard to support local businesses and workplaces to implement the restrictions to protect their staff and customers. We are visiting premises across the borough to offer support, but if we find organisations that are breaching the regulations and that are unwilling to implement the improvements we recommend, we will take enforcement action.
If you have any intelligence about workplaces or businesses that not adhering to the regulations, you can email communityprotectioncovid@calderdale.gov.uk
You can keep up to date with the COVID-19 situation in Calderdale on the Council's coronavirus webpages.