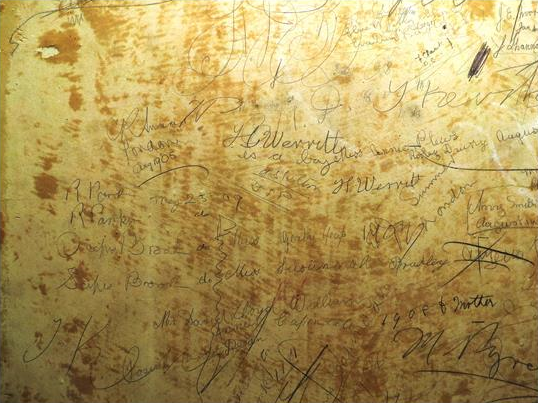 Mysterious signatures have been found on a wall inside Bankfield Museum, Halifax, after being hidden away for decades.
Over 50 handwritten signatures, dated between 1905 and 1914, were revealed during renovation works. They were hidden behind a panel at the back of a display case in the corridor leading to the top floor gallery. Calderdale Council is transforming the gallery into a new exhibition, 'For King and Country', to commemorate Calderdale's role in the First World War.  
Some of the signatures hold further clues to their owners' identity – they are accompanied by addresses including Halifax, Todmorden, Manchester, Liverpool and London. There are also some doodles and the cryptic signature of 'Daft Bert'.
Names include: 
Mr Alan Leonard Dyer, Woodside View, Halifax
A E Jagger, King Cross, 31 October 1912
Annie Widdop, Halifax, 31 August 1912
James Cargill, Huddersfield, 2 September 1909 
Calderdale Council's Project Officer for the First World War exhibition, Angela Clare, says:
"We were really excited to find the signatures. They're an intriguing part of Bankfield Museum's history, and it's poignant that the dates coincide with the outbreak of the First World War. It's fascinating to think that they've been a hidden part of the museum for so many years.
"Do you know these people or the stories behind the signatures? Why are the signatures there? Was the wall hidden and only known to a few people? We're busy delving into the history of the signatures, and would love to hear from you if you can help uncover the mysteries."
Amongst the signatures are 'David Lloyd Williams, Comedian' and 'Miss Mona Desmond, Comedienne'. Mona Desmond appears to have been an American musical performer who featured in the Broadway shows Red Feather and The Big Little Princess in 1903. Museum staff are looking into why Mona Desmond might have visited Bankfield. Was she performing in a show in the area? Do you have any clues?
The signatures will be covered up again when a new cabinet is put in place, so that they can be preserved. A photo of them will be displayed in the museum.
On Saturday 2 August 2014, For King and Country opens at Bankfield Museum – it's a new exhibition and series of events running until December 2018 to explore the impact of the war on Calderdale and its people. Following a successful Heritage Lottery Fund bid, the top floor gallery is being transformed to display a range of objects, images and archives exploring what life was like in the area 100 years ago. Events will include talks, tours, family days, specialist seminars and music and theatre performances.  
Last year the Council invited people to share their First World War stories – for example those passed down from relatives – to feature in the exhibition. The response was great – over 60 local residents submitted stories, which will all be used in the exhibition.
Calderdale Council's Cabinet Member for Communities, Cllr Steve Sweeney, said: 
"We know how important it is to local people to mark the centenary of the First World War in Calderdale, and I'm delighted that the exhibition at Bankfield Museum will help them to do this. It's wonderful that so many local families have been involved in shaping the exhibition – their stories will really bring it to life and help visitors learn more about how the First World War affected Calderdale."
People are being encouraged to research the First World War and their family history. The research room in the new exhibition will help them to get started.