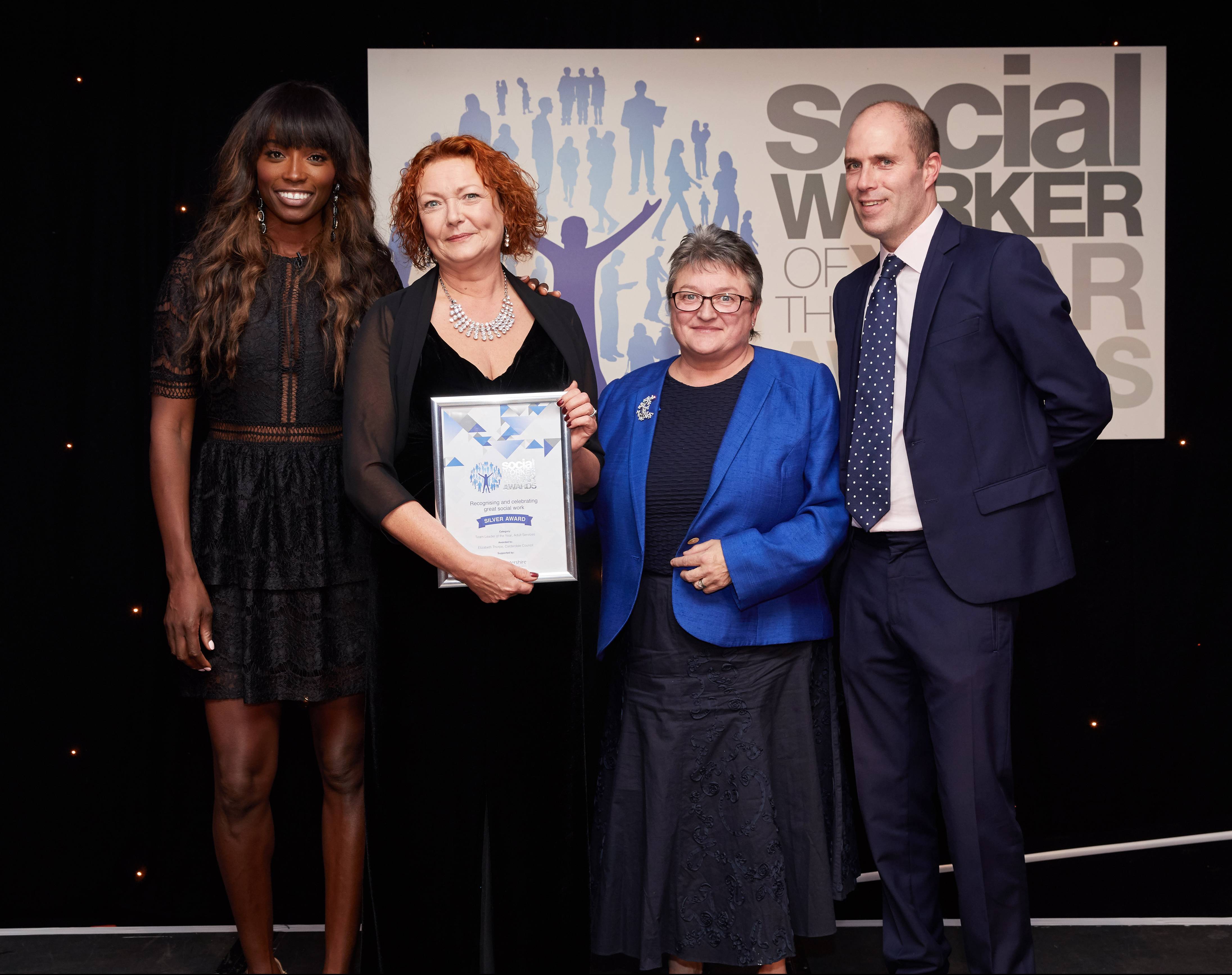 Liz Thorpe, a social worker from Calderdale Council, received a silver award in the recent Social Worker of the Year Awards 2017, in the Team Leader of the Year – Adult Services category.
This is fantastic national recognition of Liz's outstanding work with Calderdale adults in her role as the Council's community social work practice team manager.
Liz was praised by the judges for her clear, supportive and empathetic management style, which has led to social workers in her team feeling motivated and well supported. Colleagues describe her as a 'true leader' whose enthusiasm and positivity around the community social work practice ethos is 'outstanding'.
The prestigious awards ceremony at the end of November was the leading celebration of its kind in the social care sector, recognising the achievements and successes of the profession's most innovative and dedicated social workers.
Liz said:
"I was overwhelmed to have been nominated and shortlisted, and to win this award is just amazing. I'm so proud of the work the team has achieved and the innovative and creative social work practice at Better Lives at Number 42, where we have placed social work on the high street in an accessible and informal setting which allows us to practise in a preventative way.

"Our aim is to work with Calderdale people to keep them as independent as possible for as long as possible. Ninety five percent of people who come into our shop premises have their issues dealt with at that first point of contact without the need for statutory services."
Cllr Bob Metcalfe, Calderdale Council's Cabinet Member for Adults, Health and Social Care, added:
"What an incredible achievement! Liz is an inspiration – we are so proud of her and her team. They continue to provide the best possible care and support for Calderdale's people, helping to transform lives across the borough."
Margaret Willcox OBE, Director of Adult Services at award sponsor Gloucestershire County Council said:
"I was delighted to present Liz with the Silver award for Team Leader of the Year in Adult Services. Liz consistently goes the extra mile for the benefit of service users and she is an asset to her organisation. She can be very proud of everything she has achieved."
The awards were judged by leading influencers including the Chief Social Workers Isabelle Trowler and Lyn Romeo and Maris Stratulis (England Manager, British Association of Social Workers).
Calderdale Council has an excellent track record of national recognition – other recent prestigious awards include the Piece Hall transformation project's success at the Historic England Angel Awards; winning Market Manager of the Year at the National Association of British Market Authorities (NABMA) awards; and being shortlisted in the Children's Services and Public Health categories in the 2018 LGC Awards.