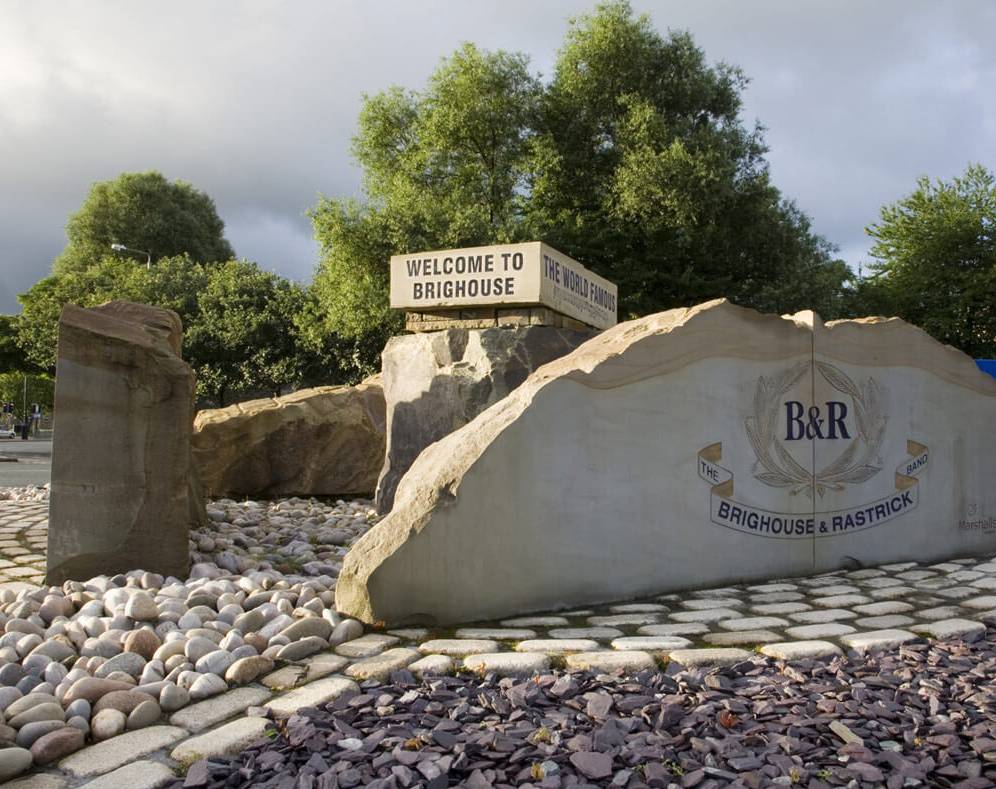 New pedestrian areas with benches, plants and trees are set to transform Brighouse town centre's streets, as part of a project to kickstart local regeneration.
Construction work has started to create new 'parklets' in the town centre – small parts of streets which are transformed into community spaces for people to stop, rest and enjoy whilst shopping. The parklets, plus several footpath extensions around the town centre, will also provide safer social distancing in line with COVID-19 guidelines.
The work is part of the Brighouse Accelerator Scheme, funded by the Government's Towns Fund and developed by Brighouse Town Deal Board, which is made up of representatives from the public, private and community sectors.
In 2020, Brighouse Town Deal Board received a £750,000 boost from the Government's initial accelerated funding for all areas working towards a Town Deal.
By funding the new parklets, footpath extensions and canal towpath improvements, this money will help to safely bring Brighouse town centre back to life as lockdown restrictions are gradually eased.
Shelagh O'Neill, Calderdale Council's Director of Regeneration and Strategy, said:
"It's fantastic to see work underway on these attractive new community spaces for people visiting Brighouse's high street, which we're committed to supporting as local businesses start to safely reopen in line with national guidelines over the coming weeks.

 

"The project aims to provide safe, socially-distanced and enjoyable areas to bring more shoppers and visitors into Brighouse, helping to revive the town centre. The new pedestrian features will support people's health and wellbeing and help the environment by introducing more greenery and encouraging more active, low-carbon travel. They will also help to boost trade for the businesses that have been so badly affected by the COVID-19 pandemic."
David Whitehead, Co-Chair of Brighouse Town Deal Board, said:
"The Brighouse Accelerator Scheme is another fantastic step in transforming Brighouse town centre for local people. The parklets and extended footpaths will make our high street more welcoming, allowing shoppers to feel safe while they enjoy the unique retail offer."
Work has already started on Commercial Street in Brighouse and will shortly begin on the canal side. It is expected to be completed in May 2021. The parklets will provide more room for pedestrians to safely use the footpath on Commercial Street and to pass other people at an appropriate distance of at least two metres.
The Brighouse Accelerator Scheme paves the way for the wider pedestrianisation and green schemes outlined in the longer-term Town Investment Plan, a bid for funding of public realm (greener and more accessible streets) and business development initiatives in and around Brighouse. Brighouse Town Deal Board has submitted its bid for up to £25 million from the Government's Towns Fund, for agreed projects to be delivered in Brighouse up until 2025. Separately, Todmorden Town Deal Board has submitted its Towns Fund bid for up to £25 million to fund projects in Todmorden.
To deliver the new pedestrian areas in Brighouse, an Experimental Traffic Regulation Order (ETRO) has been introduced. Throughout the first six months of the work, businesses and the local community will have the opportunity to give feedback. Find out more at www.calderdale.gov.uk/tro