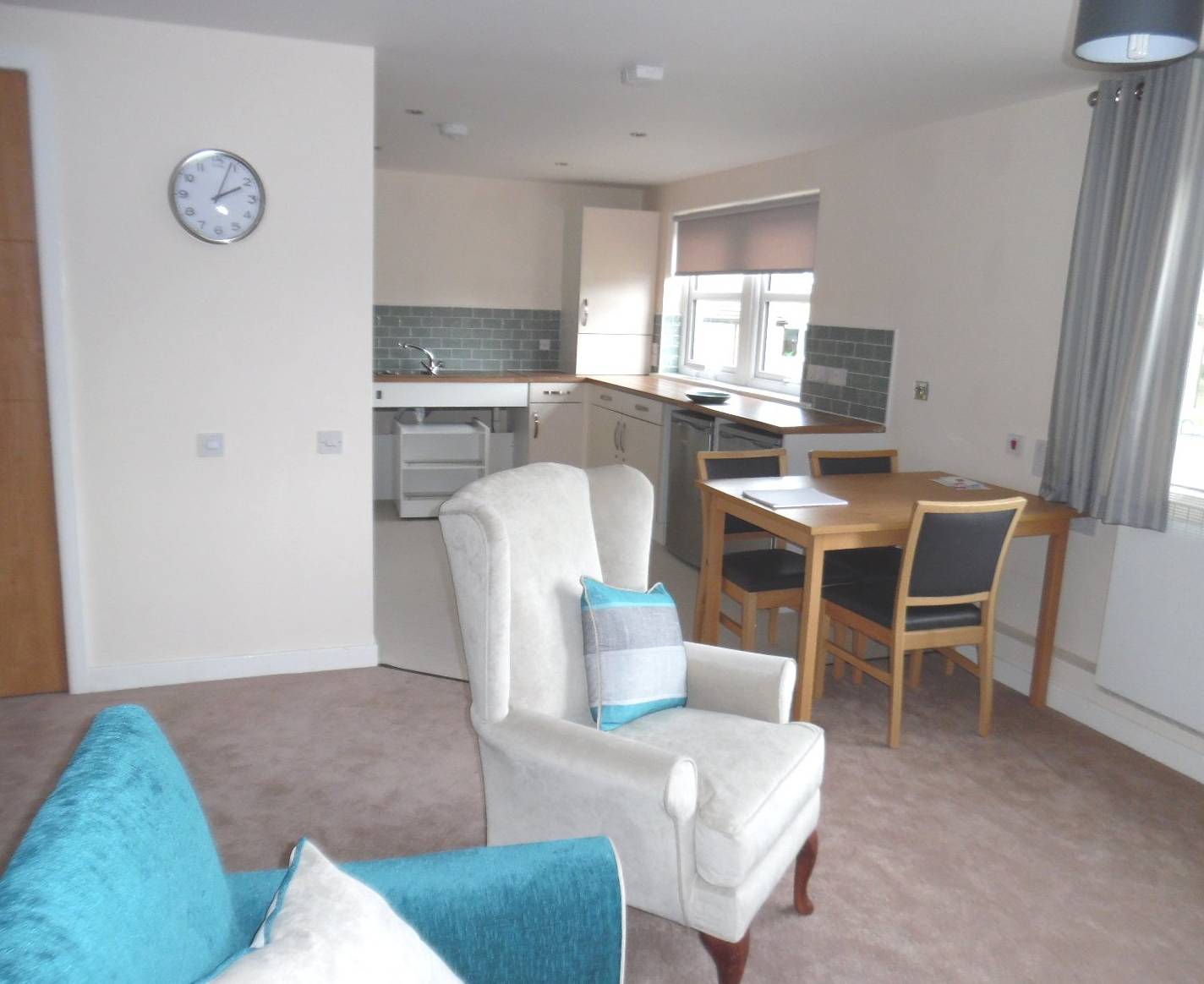 A new housing scheme to support people between leaving hospital and returning home has welcomed its first residents.
Heatherstones Court at Skircoat Green, Halifax, has 12 self-contained apartments and offers care, support and the chance to rebuild independence and remain in the community after leaving hospital.
The scheme, which opens officially on Wednesday 4 March, can also help people who have been living in their own home to maintain or regain their independence – practical support helps them to return home once adaptations have been made. It can also enable people to manage changes in their physical health and wellbeing.
It is the first scheme of this size and style in the country, uniquely supporting adults of all ages. It was created by Calderdale Council, NHS Calderdale Clinical Commissioning Group, Connect Housing and Calderdale and Huddersfield NHS Foundation Trust, bringing a previously unused site back into use and giving people a chance to keep their independence. Heatherstones Court is expected to support over 100 residents every year.  
With support from an expert team and modern facilities, people can go to Heatherstones directly from their own home for a short time to avoid hospital or permanent care. Also, when people have been in hospital and are ready to leave, they are sometimes not confident or well enough to go home straight away, but they might not need the high level of care offered in hospital or a care home.
The Heatherstones Court apartments provide a safe and pleasant place to recover before returning home. Care, support and housing advice are provided on site to meet each resident's needs, from physiotherapy to re-learning everyday activities. The aim is to help people regain full confidence, strength and independence after a short stay.
Three of the apartments are fully accessible for wheelchairs, with appropriate equipment to help people, and have two bedrooms – so a partner, family member or carer can stay there too.
Calderdale Council's Cabinet Member for Adults, Health and Social Care, Cllr Ann McAllister, said:
"I'm delighted that Heatherstones Court is now up and running. It's a home away from home, giving people the temporary support they need after being in hospital – or preventing them from having to go into hospital in the first place through rehabilitation support. It helps people to get better quickly, keep their independence and remain an active part of the community, avoiding the need to go into a care home."
The Council's Deputy Leader, Cllr Scott Benton, added:
"Heatherstones Court is a great example of how an unused site can be transformed into something that will make a real difference to our communities. The homes that were there before had been empty for the past few years and were in a state of disrepair. We recognise the problems that empty homes can bring, so we are working hard with other organisations to bring them back into use."
Dr John Taylor, GP and Governing Body member at NHS Calderdale Clinical Commissioning Group, said:
"Providing proactive health and social care support to people in the community is a fundamental part of our approach to improving quality of care and to supporting people to live happier, healthier lives. Heatherstones Court is a fantastic facility and will support us in realising this vision by making sure people get the right care and support for their needs."
Martyn Broadest, Director of Regeneration at Connect Housing, said:
"It's been great to be part of such an exciting and innovative project – what we've created offers a real alternative to the institutional style of service currently available. Too often people are stuck in hospital for too long, but are also not ready to go home. This new approach means we will help people stay independent and living in their community for longer."
For more information visit the Heatherstones Court page on the Council's website.