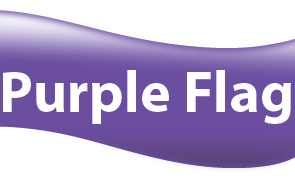 Halifax town centre has been awarded Purple Flag status for a fifth consecutive year for being a safe and welcoming place for a night out. 
The town centre continues to be the only town in West Yorkshire to hold a Purple Flag and one of only 51 in the UK and Ireland. Purple Flag is the gold standard for town centres, like Green Flag for parks and Blue Flag schemes for beaches. The award scheme recognises excellence in the management of the evening and night time economy. 
The Purple Flag assessors commented on the investment in the area and the examples of good practice, including the safer places scheme which offers 'safe haven' areas in public spaces for people who need help when in Halifax. It also commented on the improvements made and praised the partnership working between the Council, the Police and organisations like the Street Angels. 
Calderdale Council's Cabinet Member for Communities, Cllr Marcus Thompson, said: 
"It's great news that we have retained the Purple Flag accreditation for Halifax town centre. This is the seal of approval for a great night out, and is testament to the hard work put in by Calderdale staff and partners.  

"The Purple Flag assessors were clearly impressed with what they saw and I'm sure that we'll keep working to try and keep our Purple Flag status for many years to come." 
Temporary Superintendent Darren Minton, of Calderdale Police, said: 
"I am delighted that Halifax has yet again been recognised as a safe and welcoming place for people to enjoy a night out. 

"This success is down to a variety of factors, one of which is the close relationship between the police and partners, working together to bring success for the town."