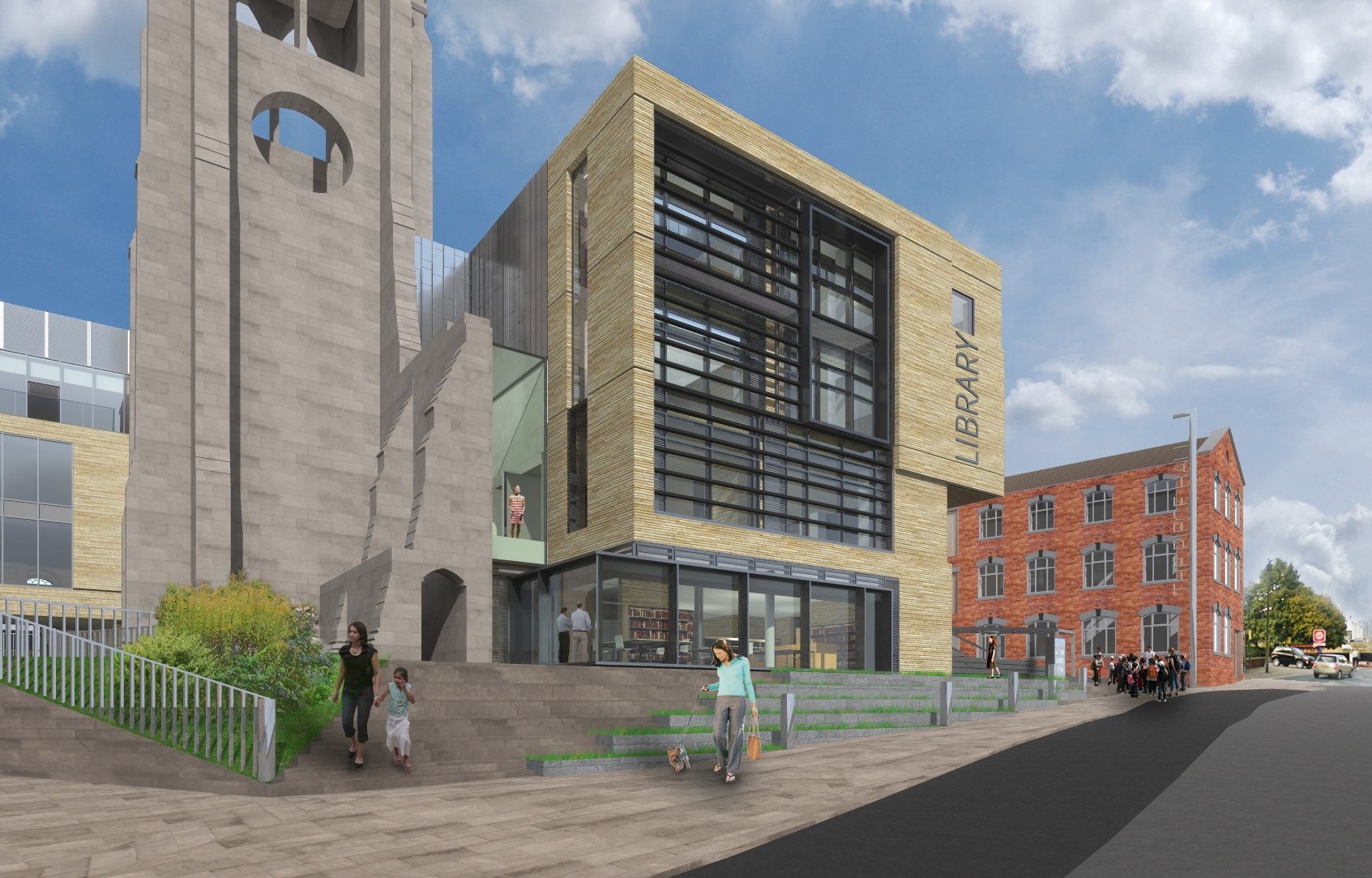 The final design plans for Halifax's new Central Library and Archive have moved a step closer.
Calderdale Council and English Heritage have agreed changes which will make sure the new building and fourth gate complement the neighbouring Piece Hall and Square Chapel, whilst providing significant regeneration to the area.
Leader of Calderdale Council, Councillor Tim Swift said:
"The designs for the Central Library and Archive are an inspiring blend of the old and the new.  The building will incorporate the remains of the Square Church, including the Grade II* listed spire and rose window, whilst at the same time offering the latest innovations for library users. It will be a place to inspire learning, where young and old will come together and enjoy and celebrate our remarkable heritage."
There will be a clear view of the new library on the approach to the Piece Hall as it has been agreed that the railings which currently face Square Road will be removed.  The new Central Library will also be more prominent as the plans have been altered to increase the size of the building, making it closer to Square Road, attracting visitors as they head towards Halifax's Cultural Quarter.
As in the previous plans, steps will lead up to the library and the new fourth gate of the Piece Hall.  Access will also be available via a lift, which has now been added to the new building, taking people from Square Road to the Central Library and Archive entrance.  We are now proposing to add a new covered terrace to the plans, which will ensure that visitors will be protected from the elements.  Although linked to the new building, the lift will be available during and outside the library's opening times.
The changes to the building design have now been submitted to Calderdale Council's Planning Department and can be viewed at Calderdale planning search with the reference 13/00671/LAA. After a new 21 day consultation it is expected that a decision on the application will be made at the beginning of November.