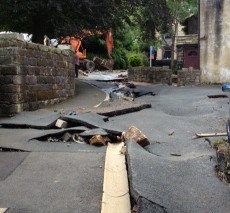 Residents and businesses in the Upper Calder Valley will see the start of a £3 million programme to reduce the impact of flooding this autumn.
Following devastating floods in Walsden, Todmorden, Hebden Bridge and Mytholmroyd in the past year, Calderdale Council and the Environment Agency have started to draw up plans to improve defences at more than 20 locations.
One of the first areas to be targeted as part of the two year minor works programme will be Mytholmroyd where vegetation in the river channel will be cleared.
Strengthening of defences at Jumble Hole Clough and Woodland View at Eastwood will also start before the end of the year.
Other locations where designs are being developed include Walsden, which was badly hit by flash flooding at the end of last month, Dobroyd Clough at Todmorden and Erringden Hillside at Hebden Bridge.
Flooding hotspots on the main A646 road through the Upper Calder Valley will also be targeted.
The Environment Agency has completed inspections along Walsden Water to assess damage caused by the flash flood on 29 July when 17 millimetres of intense rain fell in just 15 minutes. The EA is also looking at what else will need to be done to strengthen defences in the area.
Calderdale Council has commissioned a study to investigate solutions to the flooding that took place at Kershaw Road and Clough Road in Walsden.
Kershaw Road was destroyed in last month's flood and Council teams spent two weeks helping residents and businesses with the clean up.
Calderdale Council's Cabinet Member for Economy and Environment, Cllr Barry Collins said:
"Although Clough Road isn't an adopted highway, we have cleared away uplifted tarmac and brought in stone to give temporary access from the railway along Clough Road to Kershaw Road. The study to investigate solutions will determine the extent of future works required. A recommendation will be put to the Council's Cabinet as soon as the facts are established.
 "It's really important that residents and businesses know what to do to prepare for future flooding and what to do after a flood. The Council and the Environment Agency have useful information, advice and guidance on their websites."
Oliver Harmar, the Environment Agency's Flood Risk Manager for South and West Yorkshire, said:
"The EA and Calderdale Council are working together with local flood groups and other organisations to develop affordable and technically feasible solutions to deal with flooding from all sources. We are drawing up detailed designs for a variety of flood alleviation measures across the Calder Valley.
 "Local knowledge and the feedback we have received from the Calder Valley communities worst affected by flooding means we can target specific locations where the money spent will have the greatest benefit."
For more information on what to do before and during a flood, visit Environment Agency – What to do during a flood(external link)
For information and what to do following a flood, visit Environment Agency – What to do following a flood(external link)
For general flooding information, visit Calderdale – flooding