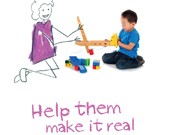 "Adoption is a life-changing experience. The joy that it's brought us is incredible. We've given the children a chance; a future; a happy, stable, loving family." That's what a Calderdale adopter says about giving a permanent home to two young girls.
You can read more about his story below to see how adoption makes a massive difference to young people's and parents' lives. But Calderdale needs more adopters. Our borough, like other areas across the country, has a shortage of adoptive families. So Calderdale Council has launched a campaign, with the key message Adoption: help them make it real, to urge people to consider adopting Calderdale's most vulnerable children in need of loving homes.
Since we launched the campaign on 5 August, we've already started to see an increase in the number of enquiries about adoption.
Could you provide a happy home for a child who can't live with their birth parents? We know it's a big decision but the Council's adoption team will support you every step of the way. We'd love to hear from you.
We appreciate you'll have lots of questions. Team members are here to give expert advice and support, and during the last week in August will be out in the borough giving information and answering questions. You can talk to the team face-to-face at a series of launch events:
 Brighouse (Commercial Street), Tuesday 27August, 11am –1pm
Halifax (Southgate, outside the top entrance of the Borough Market), Wednesday 28August, 11am – 1pm
Todmorden (near the outdoor market), Thursday 29August, 11am –1pm
Hebden Bridge (St George's Square), Friday 30August, 11am – 1pm
The adoption team will also be giving information at the family fun day in West View Park, Halifax, on Saturday 31 August, 12 noon – 4pm. It's free entry and as well as finding out more about adoption, there are also lots of fun activities for all the family.
In addition to these events, we're working hard on other ways to increase the number of adopters. We've streamlined the way we recruit and assess adoptive parents, and now it only takes an average of six months from starting the assessment process to becoming an approved adopter. During that time you'll learn more about the rewards and challenges of adopting a child and will receive preparation and support from the Council's adoption team.
We also have new advertising material strategically placed on billboards, buses, lampposts, roundabouts and more; adverts placed in the local media and other publications; clearer information on the Council's website; and new information packs. We've given Council staff in key public buildings information on how people can become adoptive parents. People should look out for Council employees wearing Ask me about adoption badges.
Calderdale Council's Leader, Cllr Tim Swift, says it's important to recruit people who are able to make a difference to children's lives and who wish to build or extend their own family.
"In Calderdale, at any one time we have around 40 children in need of a permanent, loving adoptive home and in recent years we have recruited and approved about 12 adoptive families each year. This means that many children need to be placed with families who live outside the area. Our aim is to treble that number to place more of our children with families in the local region, which will minimise the disruption for the child and also help us to more easily support the new family.

"We're launching our new adoption campaign to attract more people who are thinking about committing to becoming adopters but who may in the past have been put off by lengthy timescales. We are working hard to make sure that when people do make an enquiry, the path to becoming an adoptive parent is more streamlined whilst also making sure they receive all the information and preparation they need to support them.

"We're very fortunate in Calderdale to have a large number of successful and committed adoptive parents, many of whom already support our recruitment process by talking to new potential adopters at our information evenings and 'preparation training'."
Calderdale Council's Cabinet Member for Children and Young People's Services, Cllr Megan Swift, says that far more people than you might think can adopt.
"It doesn't matter whether you're married or single, if you have a disability, or what your class, race, culture or sexual orientation is. What matters most is that you're determined to make a difference to a young person's life.
"We know that the outcomes for children who are adopted are very good and that for many families adoption is a way of building their 'hoped for' family or for experienced parents to extend their family further.
"We have a very experienced adoption team who offer preparation training for all our adoptive families and work with them very closely throughout the assessment process and in considering the 'right' child for their family. We also offer ongoing support with finances and care where and when it's needed, ranging from support groups through to therapeutic support."
Anyone who is interested in adoption should visit Adoption or contact the Council on 0845 245 6000.
We know that people get a better insight into adoption when they hear about other people's experiences. The case study below tells the story of how adoption changed a Calderdale couple's lives.
What our adopters say: Stephen and Linda's story
 Stephen* and Linda* from Calderdale adopted Bethany* (7) and Samantha* (5) in 2010. Here, Stephen shares the couple's experience of adopting two young children, and tells us how they found the adoption process and the support they've had along the way.
An incredible opportunity
"Adoption is a life-changing experience. The joy that it's brought us is incredible. It's given us two beautiful daughters and we feel privileged that we're making a massive difference to their lives. We've given them a chance; a future; a happy, stable, loving family. It's not always easy, but when they say "I love you mum and dad" it makes it all worthwhile.
Staying hopeful
"Linda and I had always wanted our own family. We couldn't have children so we tried IVF. After a few unsuccessful rounds, the IVF clinic mentioned adoption, but at that time we were still determined to try for our own children. But after three years and five failed attempts, we knew it was time to explore adoption. It was the natural next step. It felt right. Looking back, and knowing what we know now about adoption and the happiness it can bring, we wish we'd done it sooner.
Insight and understanding
"We approached Calderdale Council's adoption team in 2008 and soon after, a social worker came to see us at home. He was really helpful and caring, and talked us through what we needed to think about and do. Next we went on a Council-run training course to introduce us to adoption. It was really insightful and taught us about everything, from the process and what forms to fill in, to the issues that children in care might have and the challenges we may face. The really great thing about the training was listening to the stories of people who had already adopted or been adopted. As they'd been through the experience themselves, this helped Linda and I relate to them and the process.
Next steps
 "After the training we were given time to reflect and make a decision – was adoption right for us? Our answer was a resounding yes! We then had a series of home study visits by our social worker to assess our application before going to approval panel. Next we went through a process to match us with the 'right' children for us before going to matching panel. Our social worker guided us all the way. In 2010, Bethany and Samantha moved in with us. It was such an amazing feeling that the months of vigorous assessment suddenly became worthwhile. The process didn't put us off, but it's great that it's now much quicker. We think that's a real boost for people thinking about adoption and for children in care.
A family
 "Bethany was four-and-a-half and Samantha was two-and-a-half when they came to live with us. They're sisters and had been together all their lives. We'd always said we wanted to adopt siblings – that way, they'd already have a strong bond and would be there for each other. When they moved in with us we experienced two immediate emotions. First: nervousness – going from no children to two would be challenging. Second: an overwhelming feeling of unconditional love – we suddenly thought 'these two bundles of joy in front of us are our daughters'. The girls were excited and nervous but took everything in their stride. They were previously in foster care, and we'd already got to know them. But even the very first time we met them, after their foster carer had told them all about us – and we'll always remember this – they called us mummy and daddy. A fantastic feeling!
"We often have to pinch ourselves and say 'wow' – it's just amazing that we've got our own family. We don't even mind the girls waking us up at 6am on a Sunday! Even the 'little things' are so exciting for us, like celebrating Christmas with them and teaching them to ride a bike – things that all parents experience, but adoption somehow makes these moments seem even more special.
"The girls know they're adopted – we're open and honest with them and talk about it, and that's really important. As they get older we'll talk to them more in depth, and Calderdale Council offers lots of information and support on this.
 Not always easy but help is at hand 
 "Not everything in the garden is rosy, and anyone going into adoption needs to be realistic, patient and open-minded. A lot of children in the care system have faced some kind of trauma, and it's bound to affect them. For example, our eldest struggles with learning and is behind at school. But there's always someone to turn to for advice and support. Calderdale Council has been great. They run brilliant group sessions about topical issues and we can always call the adoption team for advice if we need it. We recently got in touch with them about our daughter's education and they suggested we go to one of their group sessions. We got a lot out of it as we could talk to experts and share experiences with other adopters.
"Another key support group is the people we met in the early stages of the adoption process – people who have gone through the same things as us at the same time. You build a natural relationship with them. We're still in touch with three of the couples we met on our initial training, and we're always learning from each other. The Council also proactively gives new adopters other people's details who have already been through a similar process – we're still friends with them now, and our daughters are friends with their children. We help the Council out as well by offering to talk to other adopters and prospective adopters about our experience. We've benefited so much from the adoption process that we want to give something back!
 Putting adoption on the radar
 "In the past there have been stereotypes about who adopts, so there may be people who've never considered adoption before who might be ideal. It's important to raise the profile of adoption, as there's lots of children in care who need a permanent loving family. So it's great to see Calderdale Council's new campaign to encourage more adopters. I recommend adoption wholeheartedly – it's a life-changing opportunity to give a child a stable, loving home for life."
* We have changed the names in this case study because protecting the privacy of the children concerned is one of our top priorities.
Interested in adoption?
Complete an enquiry form at www.calderdale.gov.uk/adoption or talk to the Council on 0845 245 6000.