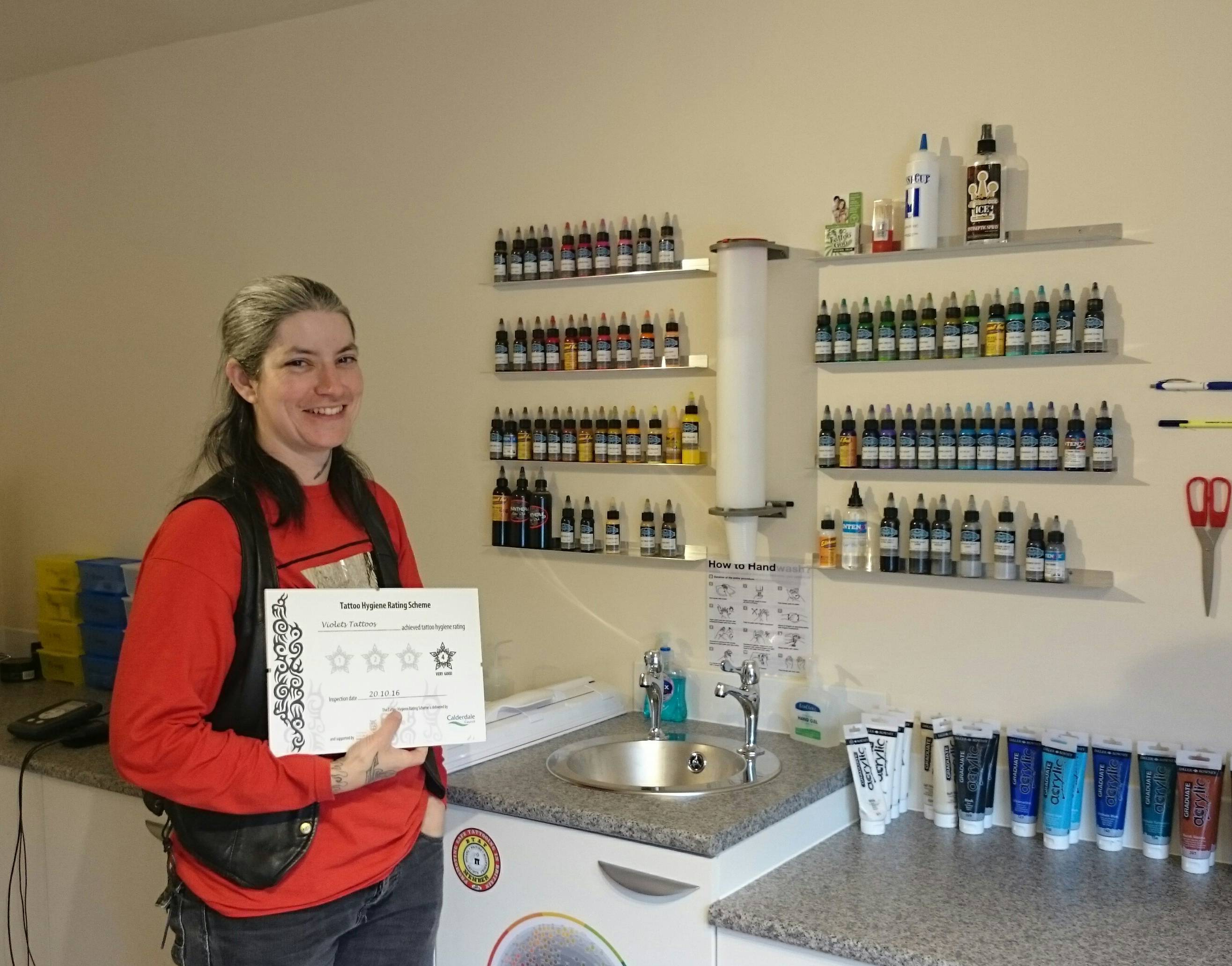 Calderdale Council has launched a new scheme to help keep local people safe when getting a tattoo.
The licensing and environmental health teams have set up the Tattoo Hygiene Rating Scheme to help people find registered tattooists in Calderdale that meet high standards of hygiene and professionalism.
Calderdale has seen an increase in the number of tattoo studios in recent years. The Council is encouraging as many as possible to sign up to the voluntary scheme to promote good practice and give customers confidence in the services provided. It is the first council in West Yorkshire to offer the scheme.
Tattoo studios that join will be given a nationally recognised star rating between one and four – four is very good, three is good, two is satisfactory and one means that improvement is needed.
The Council's environmental health team will give a rating after inspecting the business and checking that it meets a number of standards, including:
Cleanliness of premises and equipment
Sterilisation of needles, equipment and materials to avoid the risk of infection and transmission of infectious diseases
Customer age checks
Staff training, vaccinations and health screening
Quality of aftercare advice
Recognised trade body membership
Customers can check the ratings by visiting the Council's website, www.calderdale.gov.uk, and every tattooist that is part of the scheme will receive a certificate and a window sticker displaying their rating.
Cllr Barry Collins, Calderdale Council's Cabinet Member for Regeneration and Economic Development, said:
"Good hygiene is absolutely vital when getting a tattoo. We've launched the new rating scheme to encourage customers to factor hygiene standards into their choice of tattoo studio, keep them safe, drive up standards across the industry and send a clear message that unregistered and unsafe practices will not be tolerated. Three Calderdale studios have signed up to the scheme so far, and we hope that many more will join them."
Cllr Susan Press, Cabinet Member for Neighbourhoods and Communities, added:
"As well as promoting the high standard of Calderdale's tattoo studios, the Council is keen to raise awareness of the risks of visiting unregistered tattooists, known as 'scratchers'. Scratchers will often undercut licensed artists but as well as there being a much higher risk of infections, scratchers' work is often poor, with misspelt words and fading colours. Our new rating scheme will help people to make informed decisions."
The Council invited all registered tattooists in Calderdale to an information session to find out more about the scheme and to sign up then or at a later date.
Nicola Bocarro of Violet's Tattoos in Hebden Bridge, one of the local studios which has signed up to the scheme, said:
"I'm proud to be one of the first tattoo studios in West Yorkshire to be recognised for the professional standards that registered studios are capable of. I am hopeful that this scheme will bring awareness to customers that the hygiene of a studio should be a major consideration for them when they are choosing where to get a tattoo. I am happy to set an example and have the high standard of cleanliness I practise recognised."
A business's rating will last for three years, and after that they will need to apply to be rated again.
For more information about the scheme, including a list of tattoo businesses that have signed up, and details of how to apply, please visit the Acupuncture, tattoo and skin piercing licences page on the Council's website.