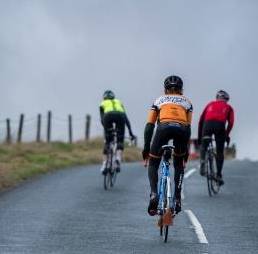 Thousands of people lining the street, thousands of metres of bunting, hundreds of yellow bikes, not to mention the 22 teams of cyclists racing through the borough!  
The Tour de France in Calderdale on Sunday 6 July last year was a spectacular event that will live long in the memories of all that were there. But it wasn't just about one day; as we approach the anniversary of the Tour coming to Calderdale there are signs of the race's legacy right across the borough. 
Travelling around Calderdale it's clear that there are certainly more cyclists on the roads. Calderdale cycle counters show a 20% increase in cycle journeys, and our child Bikeability sessions have seen a 33% growth rate in recent years. The Council now trains around 2000 children each year on basic bike skills and road cycling, and this figure keeps increasing, indicating that the number of cyclists on our roads will keep growing in years to come. 
The opening of the Brooksbank Cycle Circuit has also contributed to the increased interest in road cycling in the borough. Last year, Brooksbank School's sports fields at Hammerstones Road, Elland, were completely redeveloped and have really supported the development of cycling in the area which is a great Tour de France legacy. The  project has included the creation of a brand new cycle circuit and  aims to secure more funding for changing rooms for the football and rugby pitches. The circuit provides a high-quality, traffic-free facility for cycle training, coaching and racing for schools and the community, and is well used by children and local cycling clubs. 
But it's not just budding road cyclists that are getting in the saddle, our mountain bike trails have seen an increase in popularity too. Calderdale has some of the best natural mountain biking in the UK and more people are definitely on the local trails. 
The Leader of Calderdale Council, Cllr Tim Swift, said: 
"The whole weekend on the Tour de France in Yorkshire last July was incredible, and the fabulous scenery and packed crowds in Calderdale really stood out. The fact that this year's Tour de Yorkshire also came through the borough was testament to just how much appeal Calderdale has for both professional and amateur cyclists. 

"As we approach the anniversary of the Tour de France it's great to see that the legacy of the Tour lives on, with cycling participation rates on the rise and continued investment to ensure that we can keep the momentum going and cement Calderdale's place within Yorkshire's bid to be the cycling capital of Europe." 
If memories of the Tour have inspired you, there are plenty of ways to get involved with cycling in Calderdale. 
For instance, why not try a Local Sky Ride? If you don't already cycle and want to start, or if you want a new challenge, British Cycling, in partnership with Calderdale Council, is running a number of organised, free rides, especially developed for those getting back on their bikes, as well as dedicated cyclists looking for a new challenge. There are easygoing rides, track rides, steady rides and for those who dare, more advanced, challenging routes. There are lots of free rides across the summer; see the Goskyride.com website and search for Calderdale rides for more information and to book your place. 
Even if you haven't got a bike you can get involved! Why not try out go:cycling's free adult cycle training sessions? You can borrow a bike and helmet for free and have a go at our Learn to Ride or our Get Road Ready training sessions delivered in a traffic-free environment, or even more advanced on-road training. To find out more visit wygocycling.com or drop-in on the Learn to Ride sessions on Saturdays from 10am-12noon at the OCSA Foundation Ltd in Ovenden, Halifax.
For more information on all things cycling in Calderdale visit www.cyclecalderdale.co.uk(external link), where you can also download our Inner Cyclist route guides for cycling inspiration. You can also follow @innercyclist on twitter or visit the Calderdale Cycle Hub(external link) on Facebook.