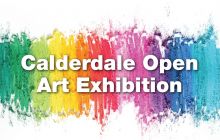 Art lovers in Calderdale are invited to Bankfield Museum in Halifax, for the sixth annual Calderdale Open Art exhibition. 
The exhibition, which opens on Saturday 24 September, features a selection of drawings, paintings, prints, photographs and textiles by professional and amateur artists from across the north of England.
Artists have been submitting work in a variety of media over the last month, in the hope of being chosen for the exhibition. The exhibited work has been selected by the artist Doug Binder and Dr. Ebony Andrews, Collections Officer with Calderdale Museums. 
Prizes for the entries include a £100 People's Prize and gallery visitors are invited to vote for their favourite piece. Other prizes include awards from department store Harvey's of Halifax, the Victoria Theatre, Shibden Hall, Square Chapel Centre for the Arts and Eureka Children's Museum. The prizes will be awarded by Holly Lynch MP for Halifax, on Saturday 24 September 2016 at 2pm. 
Most of the work is for sale and this is a great opportunity to purchase art by local, talented artists. 
Calderdale Council's Cabinet Member for Neighbourhoods and Communities, Cllr Susan Press, said: 

"The Calderdale Open Art exhibition is a great addition to the collections at Bankfield. It gives visitors the chance to see a selection of artworks in different mediums and depicting a variety of different subjects. 

"There's also the opportunity for visitors to pick their favourite piece as part of the People's Prize, and even purchase the artwork, perhaps picking up a future masterpiece!" 
The free Calderdale Open Art exhibition opens at 2pm on Saturday 24 September and continues until Saturday 5 November 2016. Bankfield Museum is open from 10am to 4pm, Tuesday to Saturday.  
For more information visit www.calderdale.gov.uk/museums or contact Jeffrey Andrews on 01422 352334/ jeffrey.andrews@calderdale.gov.uk