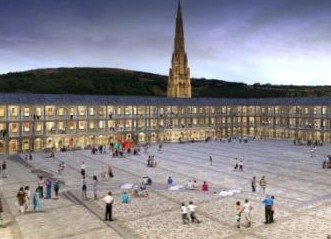 Soak up the wonderful heritage, enjoy the magical festive lights and discover unique gifts at the Grade I listed Piece Hall in Halifax this Christmas. 
The Piece Hall is open for business throughout the festive period, before closing on 17 January 2014 so that works can be carried out to transform the building into a 21st century heritage destination. It will reopen in spring 2016. 
Calderdale Council's Leader, Cllr Tim Swift, said: 
"After a really successful Christmas lights switch on at the end of November, we want to remind people that the Piece Hall is still open for business during the festive period. It's a great place to shop if you fancy buying your family and friends something a bit different for Christmas this year. I bought some fantastic quality gifts there earlier this week – things that I know I wouldn't find anywhere else. 

"You can also enjoy the magnificent surroundings, which have a wonderfully festive feel at the moment. And you'll be supporting local, independent businesses too, helping to boost our economy. 

"We're heading into an exciting new chapter for the Piece Hall, and I'm really looking forward to seeing it reopen in spring 2016, with its state-of-the-art interpretation and learning centre, shops and businesses, a new east extension and beautiful courtyard." 
Halifax Visitor Centre and Art Gallery, currently based at the Piece Hall, will close for Christmas at 3pm on 24 December 2013 and will reopen at 9.30am on 3 January 2014 in its new home in the Central Library, Halifax. It will be there for the duration of the Piece Hall transformation works. Interestingly, the visitor centre used to be based at the Central Library in the 1990s, at the front of the children's library. It was then known as the 'leisure shop' and provided tourist information and sold things like gym membership. To this day you can still see the door in the children's library that used to lead to the leisure shop. 
The Piece Hall tenants are making their own arrangements as to when they cease trading from the Piece Hall. The Piece Hall will be closed to the public from 17 January 2014. 
For details of where to find the shops which are relocating after January, please visit the shopping page at www.thepiecehall.co.uk(external link)