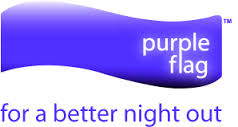 Halifax town centre has been awarded Purple Flag status for a fourth consecutive year for being a safe and welcoming place for a night out.
The town centre continues to be the only town in West Yorkshire to hold a Purple Flag. Like Blue Flag schemes for beaches, Purple Flag is the gold standard for town centres. The award scheme recognises excellence in the management of the evening and night time economy.
The Purple Flag assessors commented that the town centre has excellent parking facilities on and off road, which is very affordable, and the addition of the Broad Street Plaza car park offers people safe and secure parking. They also said that for a town of its size, Halifax has an impressively diverse range of arts and cultural venues, catering for wide ranging members of the community. Rated highly were the new developments in the town centre such as Orangebox young people's centre and Broad Street Plaza. The Taxi Ambassador training scheme* and the Safe Places Scheme** are assets to the town centre. 
The assessors also said that the relationship between the Council, Police and Street Angels is particularly noteworthy of good practice and excellent partnership working which should be presented to other town and city centres.
 Calderdale Council's Cabinet Member for Communities, Cllr Steve Sweeney, said:
"We are very proud of the hard work our staff and partners have put in to ensure Halifax keeps its Purple Flag status. Calderdale's Community Safety Partnership is committed to improving safety in the town centre, bringing together Calderdale Council and the Police along with other agencies, the private sector and voluntary groups like Halifax Street Angels."
 Safer Neighbourhoods C/Insp Steve Thomas said:
"Our commitment to making Halifax town a safer place to visit, live and work is a long-term one. Under the leadership of Inspector Skeath and Sergeant Maiden we have a strong partnership team working hard to drive crime and disorder out of Halifax. We have increased visible police resources to support the local community and partners because a safer town is a more prosperous town and that is great news for everyone. Anyone thinking they can offend in Halifax should think again as officers will be working covertly and utilising new technology to catch them and prosecute them. The support from mounted officers and specialist Roads Policing Teams will already have been noticed and have been warmly welcomed into the town making a huge impact already with a number of arrests and vehicles seized."
Helping to increase the safety of those enjoying the festive season in Halifax town centre, West Yorkshire Police have launched Operation Northdale. This aims to raise awareness of the need for people to drink sensibly, stay together with friends and make prior arrangements to get home safely.
Chief Inspector Jane Booth, who is leading the operation, said:
"Christmas is a busy time of year in the pubs, bars and clubs around West Yorkshire and it is important that people know the risks that come with alcohol and the impact it can have on their safety. We conduct this operation each year as a reminder to people to plan their nights out and not allow binge-drinking to increase their vulnerability to crime.

 "Our teams of officers and volunteers will be out providing reassurance and I hope this makes people sit up and take note of the simple steps everyone can take to help keep themselves safe while enjoying the fun of the festive season."
 Notes to editors:
 *The Safe Places Scheme aims to increase the safety and confidence of people with learning difficulties and vulnerable adults offering busy public places as 'safe havens' if they need help when they visit Halifax.
 **The Taxi Ambassadors Scheme enables taxi drivers and businesses to speak to customers about the 'top 10 things to do in Halifax', promote the area and develop itineraries for customers.