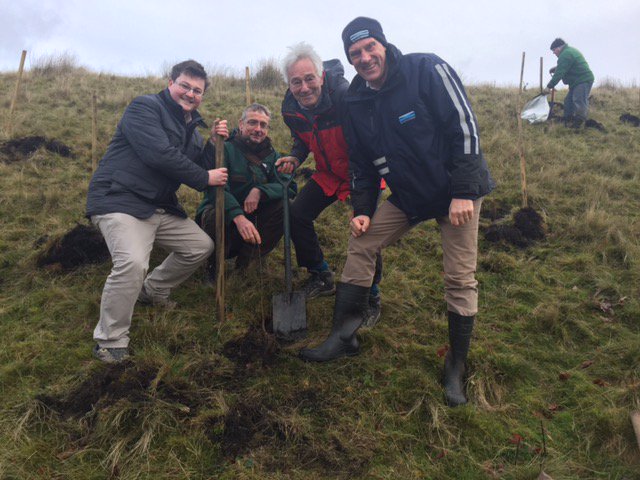 Joint press release from Woodland Trust, Yorkshire Water and Forest of Bradford
Early last month saw the planting of over 14,000 trees at Ogden Water marking the start of a partnership that will see one million trees planted on land owned by Yorkshire Water and leased by the Woodland Trust to help expand the White Rose Forest as part of the new Northern Forest project.
Planting will be carried out by The Forest of Bradford and the Woodland Trust. A mixture of native trees and shrubs including oak, beech and silver birch will be planted at the site to enhance the biodiversity of the site whilst protecting its archaeology and retaining public access.
Following backing from the Prime Minister, Theresa May and Environment Secretary Michael Gove earlier this year, over the next 25 years the Northern Forest will see the planting of more than 50 million trees from Liverpool to Hull, the first of its kind for more than a quarter of a century.
Spanning more than 120 miles between the cities of Hull, Leeds, Manchester and Liverpool, the proposed Northern Forest will help boost habitats for woodland birds and bats and protect iconic species such as the red squirrel – as well as providing a tranquil space to be enjoyed by millions of people living in the area.
Simon Mageean, Northern Forest Programme Director, Woodland Trust said:
"England is losing tree cover. We need to make sure we are protecting our most important habitats such as Ancient Woodland as well as investing in new ways to increase tree planting and expand woodland cover in the right places. A new Northern Forest will strengthen and accelerate the benefits of community forestry, support landscape scale working for nature, deliver a wide range of benefits, including helping to reduce flood risk, and adapt some of the UK's major towns and cities to projected climate change. The North of England is perfectly suited to reap the benefits of a project on this scale."
Guy Thompson Partnership Manager White Rose Forest said:
"The support of the Woodland Trust and Yorkshire Water has given our ambitions to increase tree cover by a third by 2036 a real boost. Our partners the Forest of Bradford working closely with Calderdale Council will ensure that the scheme gets delivered and has the support of the local community."
Councillor Barry Collins said:
"The launch of this ambitious project at Ogden Water is a huge milestone for Calderdale and will have far-reaching benefits for future generations to come. With the Calder Valley being a flood prone catchment, we truly value this programme of work not only for its benefits for ecology, biodiversity and air quality but also as a complementary measure to support traditional engineered flood defences."
With a population in excess of 13m that is expected to rise by 9% over the next 20 years and with woodland cover at just 7.6%, below the UK average of 13%, and far below the EU average of 38%, the North of England is ripe to reap the benefits of such a project.
Yorkshire Water Catchment and Recreation Manager, Geoff Lomas, said:
"We made a commitment in January to plant one million trees in the county over the next 10 years to help reduce flood risk, capture carbon and boost woodland wildlife opportunities. I am thrilled to see trees being planted at Ogden as part of our commitment to tree planting within the new Northern Forest."
The Northern Forest will both accelerate the creation of new woodland and support sustainable management of existing woods right across the area. Many more trees, woods and forests will deliver a better environment for all by: improving air quality in our towns and cities; mitigating flood risk in high risk catchments; supporting the rural economy though tourism, recreation and timber production; connecting people with nature; and helping to deliver improvements to health and wellbeing through welcoming and accessible local green spaces.