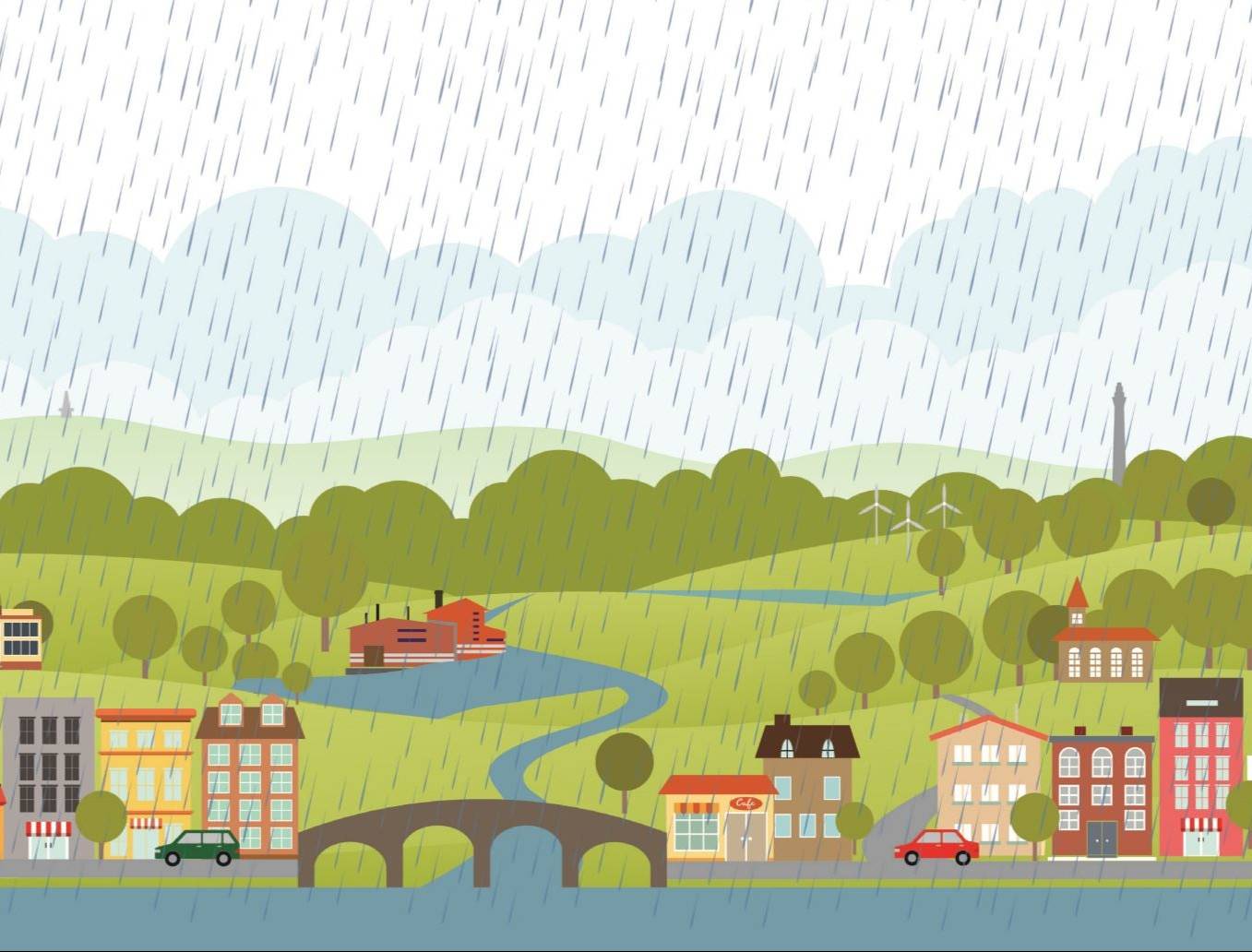 Calderdale residents are reminded to be prepared for the risk of flash flooding this summer.
Sudden and heavy downpours are more likely in the summer months. Intense periods of rain falling on dry ground can rapidly overwhelm or block drainage systems, increasing the risk of flash flooding.
Calderdale Council is encouraging residents and businesses to sign up for Met Office weather warnings(external link), register for flood warnings(external link), write or check their own flood plan(external link) and prepare flood protection measures(external link) in their property.
The ongoing impact of climate change and Calderdale's unique geography mean it is impossible to stop the risk of flooding, so residents and businesses should stay vigilant and prepared and visit the recently revamped www.eyeoncalderdale.com(external link) for advice. The new-look flooding website has a simplified flood warnings and alerts system, making it even easier to get accurate, real-time information about flooding in Calderdale.
In the last decade, flooding in Calderdale has been much more frequent with significant impacts. This is a direct result of climate change and Calderdale, a rapid run-off catchment, is especially vulnerable to flooding because of its steep-sided valleys, aging drainage infrastructure and riverside communities.
The importance of reducing greenhouse gas emissions to net zero has been highlighted in this month's national Net Zero Week which raises awareness of how to decrease our carbon emissions to combat the effects of the climate crisis. Join the path to a brighter future and learn more about Calderdale's climate action: www.calderdale.gov.uk/v2/council/our-vision/climate-emergency#our-path
The flash flooding reminder comes as Calderdale marks the 10-year anniversary of its local flood warden groups in Hebden Bridge and Todmorden. Since 2012 other flood groups have been established along the valley, including ones in Mytholmroyd, Luddendenfoot and Sowerby Bridge.
Flood wardens are local volunteers who are supported by the Council and the Environment Agency. They play a critical role before, during and after a flood by providing hands-on support to our communities. Their kindness and resilience have been invaluable during floods of all magnitudes in the last 10 years.
The role of a flood warden includes:
Supporting flood preparations and the response to flooding by being the eyes and ears on the ground.
Communicating with the Environment Agency and the Council about flood warning information.
Offering advice and information to residents and businesses and actively encouraging them to sign up for the Environment Agency's flood warning service.
Identifying and supporting vulnerable members of our communities.
Attending regular meetings with people at risk and those who have a role in helping our communities.
Providing feedback following a flood event and supporting partner agency learning.
If you're interested in supporting your community to become more resilient to flooding, please visit https://eyeoncalderdale.com/volunteer(external link) for ways to get involved. Roles are varied, training is provided to support you, and you will not be required to be on a rota.
Cllr Scott Patient, Calderdale Council's Cabinet Member for Climate Change and Resilience, said:
"This year, our summer flash flooding reminder comes as we mark 10 years of brilliant service from some of our local flood wardens. Thank you to all the volunteers whose kindness and support have helped countless residents and businesses across Calderdale over the years, as we continue to face the impact of the climate crisis and ongoing flood risk.

"Alongside this support, it's also really important for local people to make their own flooding preparations and build personal resilience to protect themselves and their property. As a flood warden myself, and as a resident of a high flood-risk area, I strongly encourage this."
Carolyn Jarvis, Flood Resilience Engagement Advisor at the Environment Agency said:
"Flash floods occur extremely quickly and much faster than other forms of flooding. With the increasing impact of climate change, flash floods could happen more frequently. It's vital that people know how to protect themselves and their property, and the network of flood warden groups in Calderdale play a vital role to support communities and help them be prepared.

"We urge people to go to gov.uk, create a flood plan and make sure they know what to do if it floods."
Building resilience is a key theme of the Vision2024 for Calderdale. The year 2024 marks Calderdale's 50th birthday and there are just two years to go. Where do we want to be by 2024? What's our ambition and what will be different? Find out more at www.calderdale.gov.uk/vision
ENDS