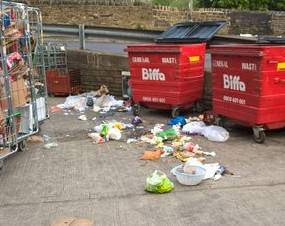 A fly-tipping repeat offender is spending three months in prison after being caught dumping waste in the Halifax area. 
Malcolm Alan Pinder of Halifax was caught and prosecuted after he was photographed fly-tipping on Angel Road, behind a retail park off Pellon Lane, in Halifax. 
A man fitting Mr Pinder's description had been reported to Calderdale Council for fly-tipping on numerous occasions; however despite officers thoroughly investigating each occurrence, he had previously left no evidence to confirm his identity. 
Finally a break through came, after Mr Pinder was formally identified from the photographs taken at Angel Road. 
On 27 June 2017 he appeared at Bradford Magistrate's Court and pleaded guilty to fly-tipping. He was sentenced to three months imprisonment and a Criminal Behaviour Order was imposed on him for five years. 
Calderdale Council's Cabinet Member for Regeneration and Economic Development, Cllr Barry Collins, said: 
"This case shows the level of punishment that fly-tippers run the risk of facing. It also shows the tenacity of Council officers in making every effort to identify this repeat offender. 

"I'd especially like to thank the member of the public who provided the evidence that led to this conviction, and I urge people to come forward if they witness any fly-tipping. In all cases, having as much information as possible helps to bring about successful prosecutions."
You can report fly-tipping through the online form at www.calderdale.gov.uk or by calling the Council confidentially on 01422 288001. If you see someone fly-tipping, never approach them and don't touch or sort through the waste as it may contain dangerous materials.