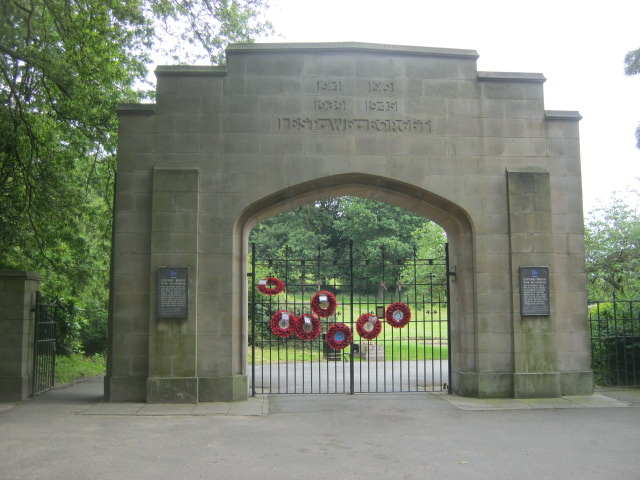 Crow Wood Park in Sowerby Bridge, Calderdale, could soon be given the prestigious Centenary Field status, meaning it would be protected forever in honour of local people who lost their lives in the First World War.
To mark the upcoming anniversary of the War's outbreak, independent charity Fields in Trust and The Royal British Legion are encouraging landowners to dedicate green spaces as Centenary Fields, to create a lasting physical legacy in communities across the country.
Calderdale Council has put Crow Wood Park forward for the title because of its impressive First World War memorial entrance, strong community 'friends' group, and location in the centre of Calderdale between the parks selected for the previous Fields in Trust scheme (Centre Vale Park in Todmorden and Wellholme Park in Brighouse were named 'Queen Elizabeth II Playing Fields' in 2012 to mark Her Majesty the Queen's Diamond Jubilee and the London 2012 Olympics).
Crow Wood Park is also a fitting choice because right from when it first opened, the whole park was intended to mark the First World War, and in the 1920s it was dedicated as a memorial to the people from Sowerby Bridge who died in combat.
The Council's Cabinet will decide on Monday 14 July whether to designate the title to the park.
With Centenary Field status, Crow Wood Park could benefit from improved facilities for visitors, as the park's community 'friends' group would have more opportunities to secure external funding. The park would also be given a plaque – an extra tribute to remember those who gave so much in the First World War.
Calderdale Council's Cabinet Member for Communities, Cllr Steve Sweeney, said:
"The grand gates to Crow Wood Park are already an impressive memorial to the First World War, and the Centenary Field status would really add to this. The centenary is such a significant milestone, which our communities are keen to mark, and the scheme gives us a fantastic chance to preserve the land and facilities for leisure and commemoration – a legacy that will be valued by local people for generations to come."
This complements the other work that the Council is doing to commemorate the First World War. Restoration of Calderdale's 28 war memorials is well underway, and preparations are being made for the official opening of the new 'For King and Country' exhibition at Bankfield Museum on 2 August. The Council's £10,000 Community Project Fund has supported community groups across the borough to carry out their own commemorative activities.
The Council is also supporting The Royal British Legion's 'Lights Out' campaign. People across the UK are being urged to turn their lights off from 10pm to 11pm on 4 August 2014 to mark the centenary of the First World War, and to use a single candle or light during that hour. The Council is encouraging Calderdale residents to get involved.