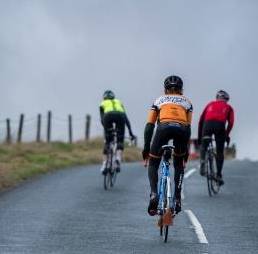 Calderdale is a great place to cycle and soon there will be even more opportunities to get out and about on your bike!
Improvements have been taking place along the off-road sections of the Calder Valley Cycleway – the Route 66 cycleway running between Sowerby Bridge and Hebden Bridge. The full Route 66 runs between Warland and Sowerby Bridge (and vice versa!) and is a fantastic opportunity to saddle up and enjoy the stunning views of Calderdale.
Extensive surfacing work between Sowerby Bridge and Hebden Bridge has been taking place since summer 2013 and the final section between Luddendenfoot and Brearley will soon be ready.
Additional work to enhance the route has been carried out in partnership between Calderdale Council and volunteers from the Council's Community Taskforce, which offers voluntary work experience to unemployed young people. They carry out small environmental projects across the borough and receive help to find employment.
The route upgrade includes improvements alongside the cycle track close to Mytholmroyd Station. Staff and volunteers have enhanced the route by carrying out work to provide a much-improved shared space for cyclists and walkers.
The Calder Valley Cycleway already has individual artwork depicting themes relating to the canal and its corridor, reflecting local heritage and history. Volunteers have constructed a 40-metre long willow sculpture to create an attractive gateway to mark the entrance to Mytholmroyd Station. The wavy willow fence winds in and out of the trees and is complemented by newly planted woodland wildflowers.
Calderdale Council's Leader, Cllr Tim Swift, said:
"This work has been a partnership between the Council, the Canal & River Trust, Network Rail, Pennine Prospects and several local landowners. As a result of this investment, there is now a viable all-weather route for cyclists and walkers between Brighouse, Halifax, Sowerby Bridge and Hebden Bridge.
"This is an ideal way to access the Tour de France route on race weekend and a beautiful space to enjoy once the Tour has passed through Calderdale."
Beyond Sowerby Bridge, Route 66 continues on a recently created route between Sowerby Bridge and Brighouse, which for most of its length uses a much improved towpath to the Calder and Hebble Navigation. At Salterhebble this route is joined by the Hebble Trail, which provides a further off-road link towards Halifax.