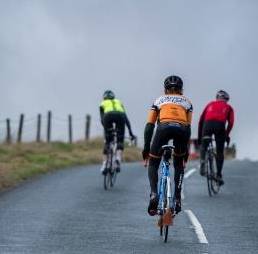 Mytholmroyd is getting ready for the Tour de France, as a temporary feature on New Road is being removed so the race can safely travel through the town.
The temporary kerbs were installed last summer near the Shoulder of Mutton public house, and the improvements have been well-received, with residents commenting on how much safer they feel crossing the road. The feature will be reinstated permanently after the race.
The temporary kerbs will be removed just before the Tour de France weekend of Saturday 5 and Sunday 6 July, and marked out using traffic cones so that vehicle and pedestrian movements are unaffected. Traffic lights will be in place while the kerbs are removed, but work will take place during the day to cause as little disruption as possible.
After the race, the features will be re-built in a permanent construction in the week beginning Monday 14 July. The work will take place in the evenings under a road closure from 6pm until midnight.
Calderdale Council's Cabinet Member for Economy and Environment, Cllr Barry Collins, said:
"The works installed in Mytholmroyd last summer were a really welcome addition for pedestrians. However, it would be impossible for the temporary kerbs to remain in place while the Tour de France cycles through the town. As such, they will be taken out for the race, before permanent improvements can be installed in mid-July.
"The permanent installation will make a lasting difference for people in Mytholmroyd, allowing them to move around the town more safely."
Everything is being done to minimise disruption to road users, residents and businesses in the area while the maintenance is carried out, and the Council would like to thank people in advance for their patience.
For further information and queries please contact Customer First on 01422 288002 or email highwaysandengineering@calderdale.gov.uk.