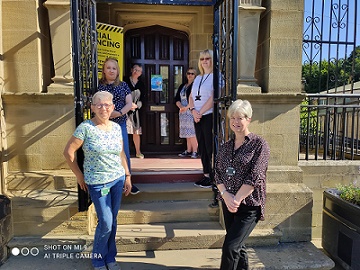 Thursday 1 July is the inaugural National Day of Recognition for Registrars, celebrating the efforts and hard work of all registration service workers  and especially acknowledging how the service has met the challenges of the last year.
Calderdale Council's Registration Service is based at Spring Hall in Halifax and supports local people through some of the most significant moments in their lives.
Since March 2020, registrars have had to get used to a whole new way of working, responding to rapid changes in legislation. When the Register Office was closed during the first lockdown, staff had to quickly adjust to provide services online and over the phone and rose to the associated challenges with their usual care and professionalism.
Thankfully staff were able to return to the Spring Hall office in July 2020, as one of the first places to reopen. Safety measures are still in place and staff continue to follow Government advice and provide guidance to residents about current restrictions on birth and death registrations, as well as advising of procedures and limits for marriage and civil ceremonies.
As part of celebrations for the National Day of Recognition for Registrars, staff will reflect on the challenges of the past 15 months and celebrate the professionalism and dedication of the whole team in continuing to provide the best possible service to local people.
Calderdale Council's Cabinet Member for Public Services and Communities, Cllr Jenny Lynn, said:
"Our Registration Service has done an exceptional job in rising to the challenges of the last 15 months and I'm pleased that this work is being acknowledged with a national recognition day.

"The theme for the day is 'giving thanks' and I know that many Calderdale residents have really appreciated the hard work of our registrars during the pandemic. The team has continued to work quietly in the background to make sure that births and deaths are registered, and ceremonies take place. They've also provided professional, empathetic support to grieving relatives and to the hundreds of disappointed wedding couples."
To find out more about the latest guidance for births, marriages and deaths in Calderdale, visit https://www.calderdale.gov.uk/v2/coronavirus/service-updates
ENDS