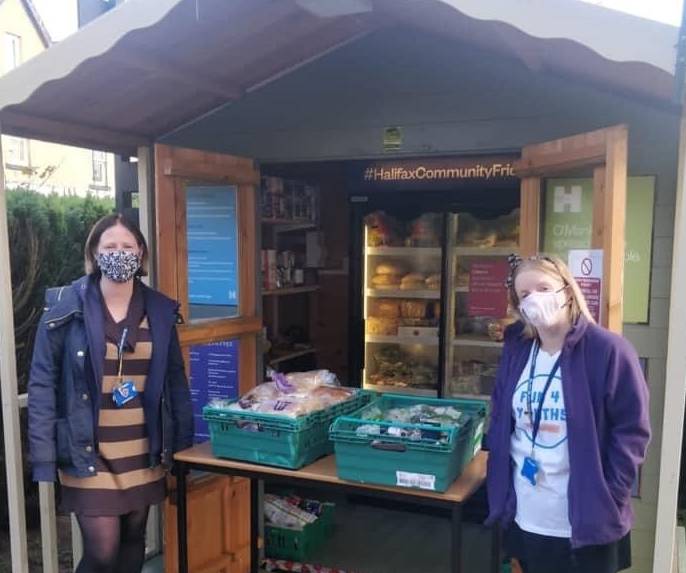 Calderdale landmarks, including Wainhouse Tower will light up this weekend to show support for Thank You Day on Sunday 4 July, acknowledging the efforts of every person who has made a difference and helped others throughout the pandemic.
The idea behind the country's first ever Thank You Day came from a grassroots campaign in local communities as a way of thanking each other and of building on the community spirit that so many felt during lockdown.
Calderdale Council will light up Wainhouse Tower blue on Friday 2 and Saturday 3 July and green on Sunday 4 and Monday 5 July, acknowledging both the public and voluntary sector and celebrating NHS, Social Care and Frontline Workers Day and the NHS's birthday which falls on 5 July.
The Council is also conveying its appreciation for the efforts of thousands of residents who have shown kindness and community spirit to support the borough through one of the most difficult periods in its history.
The Leader of Calderdale Council, Cllr Tim Swift, said:
"Although the last 15 months have been incredibly difficult for all of us and we continue to face challenges due to COVID-19, the stories of incredible kindness, community spirit and super-human efforts of people across the borough are inspiring and heart-warming.

"Thank You Day is an opportunity to pay tribute to the thousands of key workers, volunteers, carers, educators, students and members of our community who have stepped up and offered help and support to others throughout COVID.

"We're all so thankful for the life-saving efforts of our amazing NHS and frontline staff, but there are so many unsung heroes we need to thank too. I've no doubt that every single person in Calderdale has been touched in some way by the kindness of others over the past year and has a reason to express gratitude on Thank You Day.

"I've witnessed the hard work of Council staff and the amazing efforts of our public sector partners, and I continue to be humbled by their ongoing determination and resilience in incredibly difficult circumstances. I'd also like to take the opportunity to thank every resident in Calderdale for following the COVID safety guidance, getting their vaccines and doing all they can to keep others safe.

"It's been a challenging period for everyone and Thank You Day is the perfect opportunity for us all to take the time to acknowledge others and reflect on what we've all been through together."
To further recognise the contributions of the local community over the past 15 months, the Community Foundation for Calderdale will also be sharing thank you messages throughout the day, acknowledging many of Calderdale's unsung heroes.
Steve Duncan, CEO of the Community Foundation for Calderdale, commented:
"We are immensely proud of our community for rallying round and helping this year more than ever before. People don't do it for reward or recognition, but because they care. That's why we will be taking part and saying thank you to the unsung heroes whose kindness make such a big difference to Calderdale."
One of many examples of Calderdale's kindness in action is the Halifax Community Fridge. The Fridge launched in August 2020 at the height of the pandemic, and has remained open every single day since, including bank holidays and festivities. It's based on the grounds of the Madni Mosque on Gibbet Street.
The Community Fridge helps reduce food wastage, all whilst providing fresh, nutritious food to those in need. Around 40 families visit the fridge on a daily basis, and it's really brought the whole community together. Since its inception, over 70,000 items of food and drink have been distributed back into the community. All of this wouldn't have been possible without the support of the Halifax community.
Halifax Community Fridge Founder, Hassan Riaz, said:
"The Halifax Community Fridge has now been open for a year. We've remained open on Christmas Day, New Year's Day and intend to remain open every-single day of the year. The impact of the community fridge has been seen across the borough, it really has been a lifeline for many local people, helping them in the most difficult of times, all whilst reducing food wastage locally. Thank you to the Halifax community for coming together and supporting one another."
Further community kindness is exemplified by Calder Community Cares which was set up by Calderdale resident Janet Lymer just eight days into the first COVID-19 lockdown in March 2020.
Calder Community Cares (CCC) continues to deliver for the people of Calderdale with many of the older and more isolated residents still very reluctant to leave their homes – initiatives such as 'A little walk with small talk' has encouraged them to take those first few steps back into normalcy.
Janet and her teams have extended their reach to also include families that have dropped into poverty over this period. Activities such as the very popular 'Ready Steady Cook-off', run in conjunction with Coop Pioneer, Caroline Beardsmore, has helped families to cook fresh food on a budget and feel valued in their communities.
The CCC Foodshare Scheme (preventing short dated foodstuffs from going to landfill) sends out over 20 fresh foodbags seven days a week saving an average family around £10-£15 per week. To date they have sent out over 12,000 thousand bags.
Janet said of the initiative:
"There is still so much left to do, from encouraging our elderly to take an active part in society and undertake little actions that will encourage fitness and exercise, to providing a little extra each week to reduce food waste and save a few important pennies for families who are struggling. I think our services are going to be needed for a long time to come and I'd like to thank everyone who's given their time to support the local community through Calder Community Cares.

"Kindness is our currency at Calder Community Cares, and it is a currency our volunteers have in abundance -I'd like to thank them for spending that currency with us."
The kindness and resilience of Calderdale communities is a key part of Vision2024. Thank You Day is another opportunity to recognise and appreciate the borough's amazing community spirit.
The year 2024 marks Calderdale's 50th birthday. Where do we want to be by 2024? Find out more at www.calderdale.gov.uk/vision
 ENDS