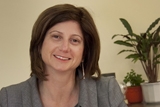 With the deadline fast approaching, Calderdale Council is encouraging residents to make sure they are registered to vote.
On Thursday 5 May voters in Calderdale will go to the polls for the Council and Police and Crime Commissioner (PCC) elections.
The deadline to register, if you want to be able to vote and have your say at these elections, is Monday 18 April.
Merran McRae, Calderdale Council's Chief Executive and local Returning Officer at the elections, said:
"With less than one week to go, time is running out to make sure your voice is heard in the elections. Our message is simple – if you're not registered by 18 April, you can't vote. I'd encourage everyone in Calderdale to act now if you're not already registered to vote and apply online at www.gov.uk/register-to-vote(external link). It's quicker than making a cup of tea."
If you don't have internet access you can apply by calling 01422 393103 or simply complete and return the form that the Council has already sent to you. Whichever way you choose to register, you need your National Insurance number to hand. 
Being on the register means you get to have your say in who represents you at election time. The names of the people nominated for the local elections are published on the Council's website, on the Statement of persons nominated page. In the PCC election, the overall result will be collated by Wakefield Council, and you can find information about the candidates standing for election in your local police force area on Wakefield Council's PCC elections(external link) web page.
PCCs are elected to hold the police to account for delivering the kind of policing you want to see. Their aim is to cut crime and ensure your police force is effective; for example by engaging with the public and victims of crime to help set police and crime plans; and ensuring the police force budget is spent where it matters most. For more information visit www.choosemypcc.org.uk(external link)
Ben Brook, Head of the Electoral Commission, English Regions, said:
"The deadline to register is Monday 18 April 2016 so there is not long left to make sure you are registered and able to take part in these important elections on 5 May.

"Our research shows that the biggest reason people give for not being registered is moving house, with nearly half of people in England giving this as an explanation. If you're not registered, you won't be able to have your say on issues that directly affect your day-to-day life in Calderdale."