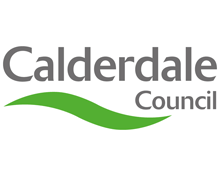 Work is well underway to restore Calderdale's war memorials to mark the 100th anniversary of the outbreak of the First World War.
Calderdale Council is working with the War Memorials Trust, a charity that helps protect and conserve war memorials in the UK, to maintain all 28 memorials across the borough – 15 of which commemorate the First World War.
This week, work is taking place on one of the main memorials in the area – the Halifax cenotaph at Duffy's Park by Halifax Minster. The cenotaph is a listed monument, and the Council has been granted Listed Building Consent to repaint the rail around the monument and its plaque. For reasons unknown they were painted orange, but research has shown that the original colour was black. So the rail and plaque are being restored to their original state. The plaque has been taken away to be repainted and is due to return to the memorial in about three days. The rail is being painted on site.
The cenotaph commemorates both World Wars and was moved from Belle Vue in Halifax to its current site in 1988. It was originally unveiled at Belle Vue in 1922 by Sir George Fisher-Smith. It stands 25 feet high, weighs 130 tonnes and was installed in memory of 2,000 Halifax men who died in combat.
Calderdale Council's Cabinet Member for Communities, Cllr Steve Sweeney, said:
"We know how important it is to local people to mark the centenary of the First World War in Calderdale. We're working hard to get all our memorials up to scratch by August. But the anniversary isn't just this year – it lasts for the next four years, so we're working throughout that time to make sure all our memorials are at their very best by 2018. After that, we'll look at each memorial every two years to see if they need further restoring. We'll continue to apply for grants from the War Memorials Trust to help with the works, and we're very grateful for its support so far.
"Our memorials are much loved and respected by local residents and are an important part of our heritage. Our long-term approach will make sure they remain in our community for many years to come as a way of remembering those who sacrificed their lives in war or conflict."
There's also lots of other work going on across Calderdale to mark the centenary of the First World War. The Council is putting the finishing touches to the new 'For King and Country' exhibition at Bankfield Museum, which opens on 2 August 2014 to commemorate Calderdale's wartime contribution and experiences, along with a series of free events. Following a successful Heritage Lottery Fund (HLF) bid, the top floor gallery is being transformed and much of the exhibition (which is free to visit) will be based on First World War stories that have been passed down to local people through the generations. The gallery refurbishment is complete, and staff are now busy installing the objects, images and archives that will be on display exploring what life was like in the area 100 years ago. For more information please visit www.museums.calderdale.gov.uk. The events are listed here.
The Central Library in Halifax is hosting a series of First World War-themed talks over the next few months. The first of these, on Tuesday 24 June from 12.30pm to 1.30pm, is called 'Why are we here? The outbreak and causes of the First World War'. The speaker will be David Millichope of the Halifax Great War Heritage Society. Admission is free. To avoid disappointment, please ring 01422 392631 to book a place.