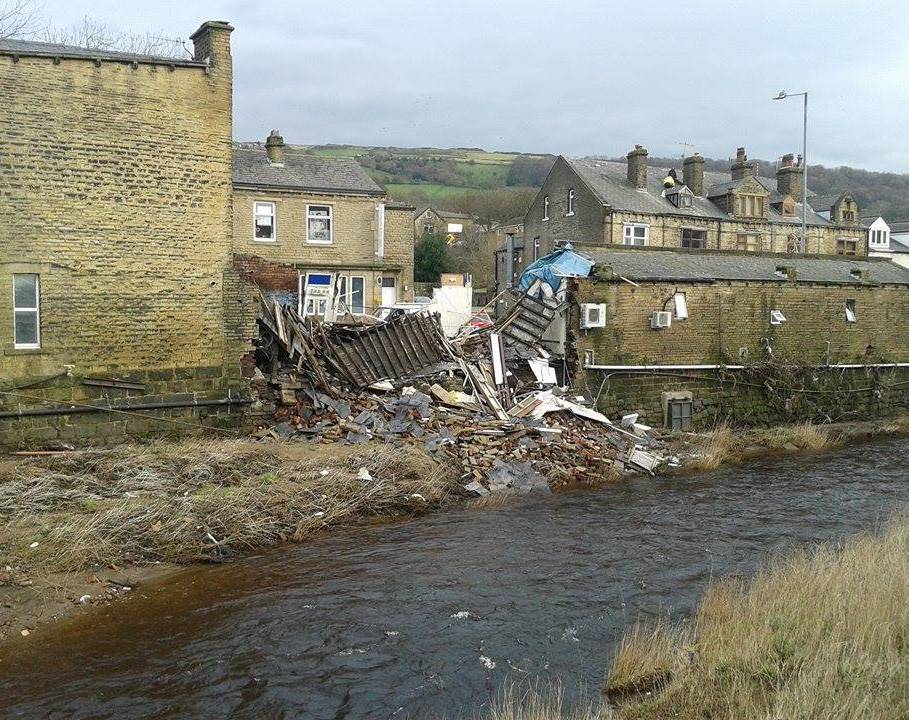 Work to remove the collapsed section of the Whitesands building on Burnley Road, Mytholmroyd, starts on Tuesday 1 March.
The building, formerly Whitesands Travel Agents, was overwhelmed during the Boxing Day floods, spilling rubble and building debris into the River Calder.
In order to remove this risk and improve the appearance of the site, Environment Agency contractors will be on site to demolish what's left of the building and clear the debris from the river channel.
Andrew Coen, project manager at Environment Agency, said:
"We've been working closely with Calderdale Council to ensure the safe removal of what's left of the building and the debris that's spilled into the river channel. Because of the unstable nature of the building, it's necessary that a corden is placed around the site and temporary traffic lights are put up on Burnley Road.

"We expect the work to take up to two weeks. Drivers are advised to expect some delays, but the lights will be monitored to ensure disruption is kept to a minimum."
Cllr Barry Collins, Calderdale Council's Cabinet Member for Regeneration and Economic Development, said:
"We are aware that the damage to the building is very visible, so we are keen to support the Environment Agency to ensure the safety of the site and improve its appearance for local people and visitors.

"We have continued to monitor the stability of the site since the floods, and looking to the future, plans are being considered with the owners of the premises to secure the river edge and redevelop the site of the single storey buildings in the same row as the former Whitesands building."
The Environment Agency is carrying out an extensive programme of work right across Yorkshire to inspect and repair defences damaged in the December floods. This work also includes identifying the potential for flood risks caused by damage to structures such as the Whitesands building. To date 7,000 inspections have been carried out.