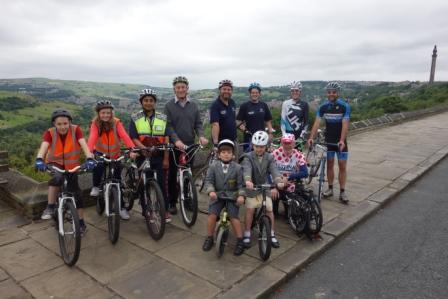 Anticipation is building across Calderdale ahead of the Tour de France 2014, and schools can get into gear with the launch of the first ever Tour de France schools resource pack – for teachers, community lead­ers and parents of young people aged 7 to 14. 
The free resource, available to download from cycle.yorkshire.com, has been developed by councils and cycling organisations across the area who are working together to make this a great place for safe cycling, inspiring more people to cycle more often.
 The pack works alongside lots of cycling going on in local schools, including a recent British Cycling event at Ravenscliffe High School designed to include every student and as many staff and parents as possible – all enjoying the benefits of riding a bike. The Council's Bikeability and road safety team is also helping build students' cycling ability and confidence ahead of the Tour de France.  
Calderdale Council's Cabinet Member for Children and Young People's Services, Cllr Megan Swift, said:
 "This free resource is a great way to encourage local youngsters to learn more about the Tour de France and get excited about the world's greatest sporting event. The pack contains a wealth of useful information on the tour in Yorkshire and the range of cycling activities taking place in Calderdale."
 Gary Verity, Chief Executive of Welcome to Yorkshire, said:
 "This first ever education pack to accompany a Tour de France promises to provide students with an engaging and exciting way of supporting their wider learning while tapping into the Tour coming to our region. It is one key part of a number of initiatives that will make up our legacy programme of Yorkshire's Grand Départ."
 The 101st running of Le Tour will travel through Calderdale on Sunday 6 July. For more information and route details see visitcalderdale.com(external link)