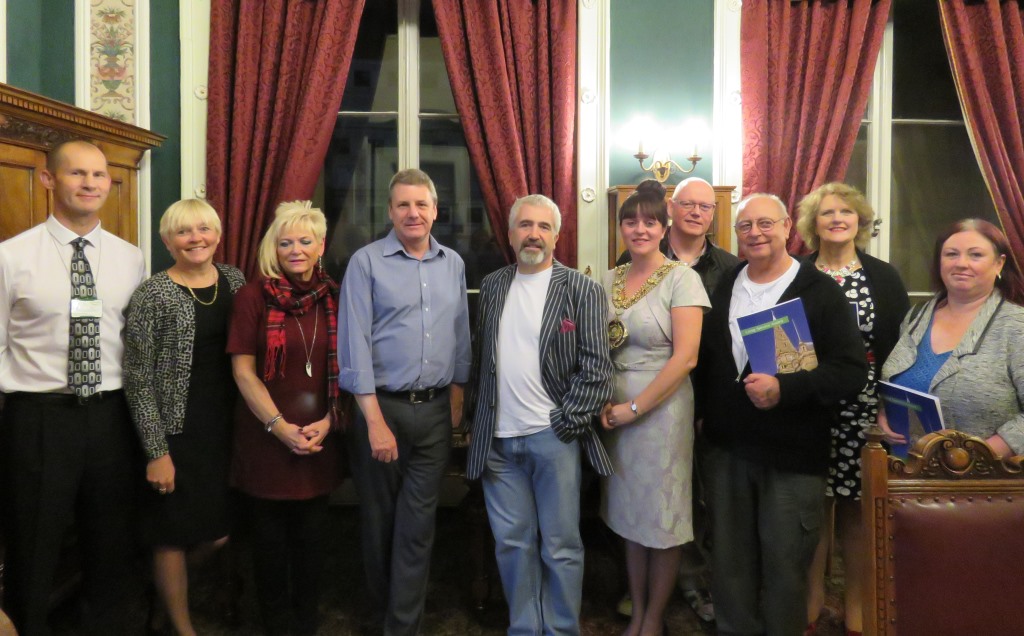 Long serving staff at Calderdale Council have been rewarded for their hard work at the Council's Long Service Award Ceremony at Halifax Town Hall.
Staff who have worked for the Council for 25 years attended the ceremony on Monday 19 October, where their individual stories were presented and recognised by the Mayor of Calderdale, Cllr Lisa Lambert.
Ten staff received their recognition award, and while they all had very different stories and career paths, it was clear that the level of service they all have provided over the years has really benefitted the Council and people of Calderdale.
The Mayor of Calderdale, Cllr Lisa Lambert, said:
"It was a real pleasure to say an official thank you to our long serving staff, who have shown so much commitment to the Council.
"It's great to hear the stories of their careers in such varied roles."
The staff who received the recognition are as follows:
Timothy Auton, who started work as a Bar/Catering Assistant with Leisure Services in August 1990, and recently transferred to the Council's Corporate Asset and Facilities Management team. Tim currently splits his working day between North Bridge Leisure Centre and Halifax Pool often starting a shift at 5.30am in the morning to make sure everything is clean and tidy for the day ahead.
Jenifer Bytheway, who started at the Council in August 1990 and works as a Chargehand Cleaner, working at Princess Buidlings in Halifax town centre and more recently at Northgate House in the town.
Richard Collins, who currently works in the Lower Valley operating a mini-sweeper machine to clear gullies and keep the streets clean. Richard began his career at Calderdale as a HGV driver, helping to empty dustbins, emptying the gullies and litter picking.
John Darby, who began working for the Council in September 1990 in the Environmental Health Department as a Refuse Collector/HGV Driver. John then went on to drive a large mechanical sweeper, and has helped keep Calderdale's streets clean for the last 25 years.
Lesley Hinchliffe, who has worked as a finance officer across a number of Council directorates. Lesley became a Senior Finance Officer in 2000, and has recently taken early retirement.
Deborah Hoey, who has worked in Adults, Health and Social Care since 1990, seeing many changes in the world of social care and working in a number of care homes in the borough. Deborah now works as a Specialist Support Worker on the Older People Team, helping to support individuals with complex needs.
Elizabeth Peter, who has spent her 25 years at the Council working with children and young people with disabilities and has learnt a lot about the different needs of children and teenagers across the borough. Liz is currently a Children's Residential Worker.
Kevin Rushworth, who has worked in a number of different engineering roles within the Council with a varied portfolio of projects. Most recently, Kevin has been working on a number of improvements schemes for the Highways service.
Jacqueline Stone originally started working for the Council in 1980 as a Cleaner at Sunnyside School. Since then she has worked as a Monitoring Officer and a Technical Support Officer for the Building Cleaning Team and currently works as an Area Facilities Officer with the Council's Corporate Asset and Facilities Management team.
Graham Teal, began his career at the Council as a Pest Control Technician, where he worked controlling rodent activity particularly around the sewer system, which required a strong constitution! These days, Graham is employed in the Waste and Recycling Team ensuring the Council's contractor provides efficient waste and recycling collection services.