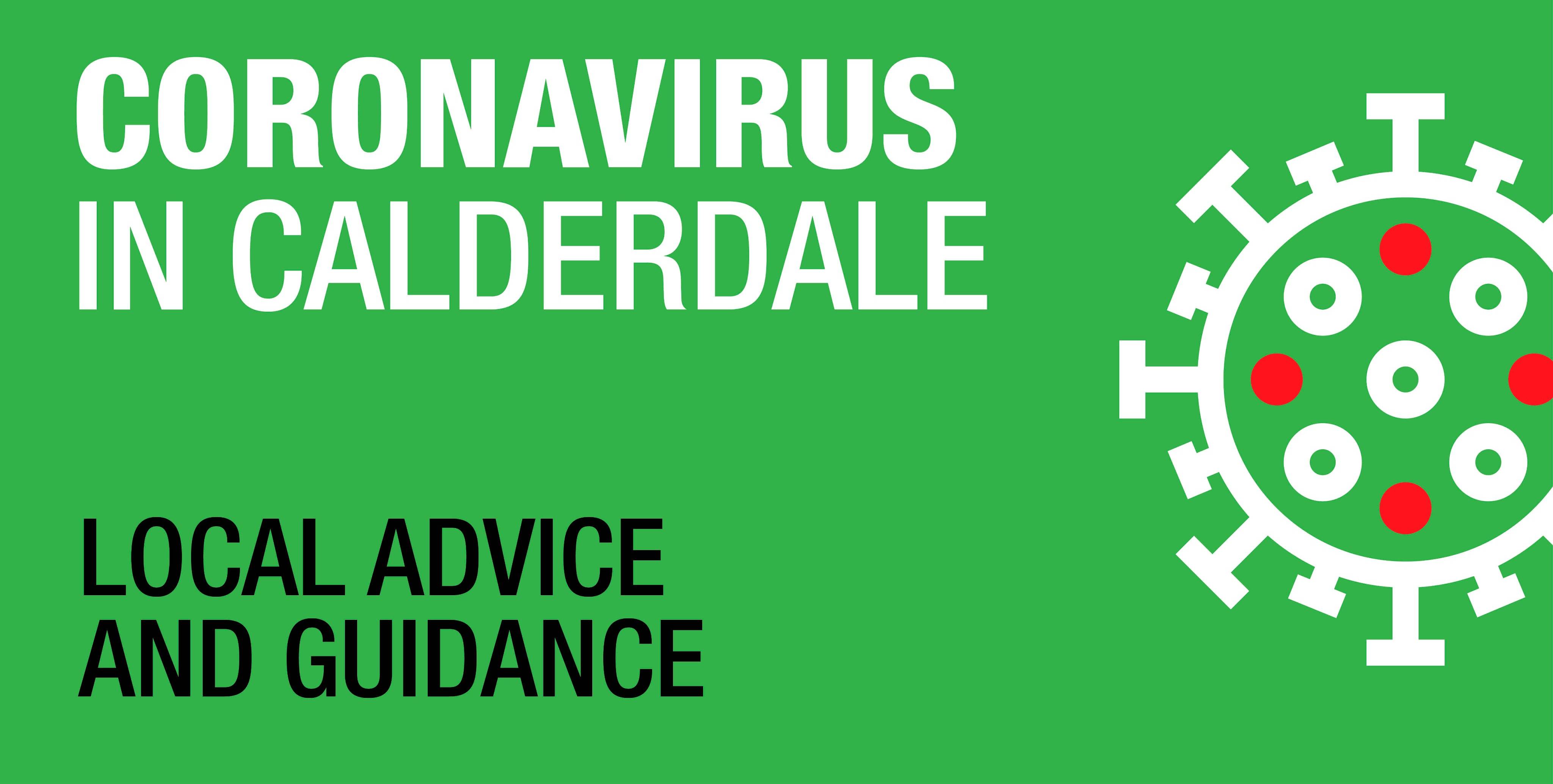 Calderdale Council is continuing to support those most at risk of becoming seriously ill if they catch COVID-19, as the national shielding programme is extended.
The government has announced that an additional 1.7million people across the UK will be added the Clinically Extremely Vulnerable list, after research identified a wider combination of risk factors that make people more vulnerable to COVID-19.
In Calderdale, this means that an additional 3,152 adults under 70 years old will be advised to shield, alongside those already shielding due to specific clinical conditions.  We expect additional adults over 70 to be added to the Clinically Extremely Vulnerable list next week.
All those now in the shielding programme will receive a letter from the government to either explain that they have been added to the programme or to advise those already shielding that they should continue to do so until 31 March 2021.
Calderdale Council will also be contacting those added to the list of those shielding, to advise them of the support they can access. Clinically Extremely Vulnerable adults receive priority access to vaccination against COVID-19 and the Council letter will also explain how those who haven't yet received the vaccine should book their appointment.
Those that are Clinically Extremely Vulnerable are advised to stay at home as much as possible – this means only leaving the house to carefully exercise or to attend health appointments. If it isn't possible to work from home then they should not attend work. If this is the case, they will be eligible for statutory sick pay.
The Council and voluntary and community sector partner organisations will continue to help residents who are most at risk, as they have done since the pandemic began. More information about local support is available at https://www.calderdale.gov.uk/v2/coronavirus/help/support-vulnerable.
Calderdale Council's Leader, Cllr Tim Swift, said:
"Since the start of the pandemic, we've been working with partner organisations and voluntary groups to ensure we can support those who could be especially vulnerable to COVID-19.

"We're committed to continuing this work to help those who are still shielding, as well as the additional residents who are now being recommended to shield.

"We know that many people who receive a letter to advise they should shield may be worried about getting hold of essentials like food or medication or how they can access additional help. We'll be contacting these residents to provide important advice and offer our local support if it's needed."
Calderdale Council's Director for Public Health, Debs Harkins, said:
"National research continues to find out more about COVID-19 and the factors that can cause some people to suffer serious complications from the virus. A wider combination of risk factors has now been identified, meaning that it's now recommended that more people follow shielding advice.

"Over 3000 Calderdale residents will soon receive a letter advising that they are at greater risk from the virus and recommending that they shield. This is in addition to the many members of our community already following shielding advice due to specific clinical conditions.

"Almost all COVID cases in Calderdale are now the new UK variant. We know that this variant is much more contagious so it's even more important that you understand your risk and take additional precautions to stay at home as much as you can.

"Please get in touch if you're anxious about the implications of having to shield. There is lots of support available."
It's important that everyone makes the most of the current national lockdown as an opportunity to protect local NHS services and other local essential key workers across the borough. Most COVID-19 cases in Calderdale are the UK new variant, which spreads more easily, and this means we all need to do even more to reduce transmission than we did in the spring 2020 lockdown:
Keep doing the three big things to prevent the spread of COVID-19: stay at home and avoid contact, wear a face covering unless you are medically exempt, and self-isolate if you test positive or are a contact.
Get tested if you have symptoms of COVID-19
Get vaccinated if you are invited. It's important that anyone who is not in the priority groups waits their turn so that the vaccination programme can meet its purpose of preventing death and serious illness in those at greatest risk.
Seek the support available if you need to self-isolate but are struggling to do so.
For up-to-date and reliable information about COVID-19, use trusted sources such as: