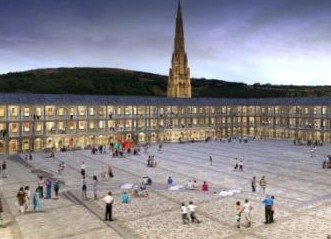 Work is well underway to transform the historic Piece Hall and create a new, state-of-the-art Central Library and Archive in Halifax town centre.
As part of this work, diggers and other heavy vehicles are accessing the site from Square Road. To keep pedestrians safe, part of the footpath alongside Square Church on Square Road has been closed for the duration of the works, until spring 2016. People are being asked to take extra care when walking in the area. 
Pedestrians are asked to use the pavement on the other side of the road to stay safe, and signs are in place to direct them. 
Alternative construction access points for the work vehicles were considered, but due to narrow roads and other constraints Square Road is the only place where they can get in and out of the site.
Calderdale Council's Leader, Cllr Stephen Baines, said:
"It's great to see work in full swing to transform the Piece Hall and create the new library. Whilst the work takes place, it's vital to ensure people's safety. Temporarily closing the footpath on Square Road was essential, and we urge pedestrians to use the footpath on the other side of the road."
The Piece Hall transformation project is being funded by Calderdale Council and a £7 million grant from the Heritage Lottery Fund. The Grade I Listed building will be refurbished and conserved, creating a 21st century heritage visitor attraction, with a state-of-the-art interpretation and learning centre, a new east extension and a redesigned courtyard. Find out more at www.thepiecehall.co.uk(external link)
The new Central Library and Archive is wholly funded by the Council. It will be a striking building which provides state-of-the-art facilities for the community, supporting the Piece Hall transformation and helping to create an improved pedestrian route from Halifax train station to the town centre. Find out more at New Central Library and Archive.
The Council awarded the construction work on both projects to GRAHAM Construction following a tender process. The company, which operates throughout the UK and Ireland, has a strong record of working with buildings of historic importance.