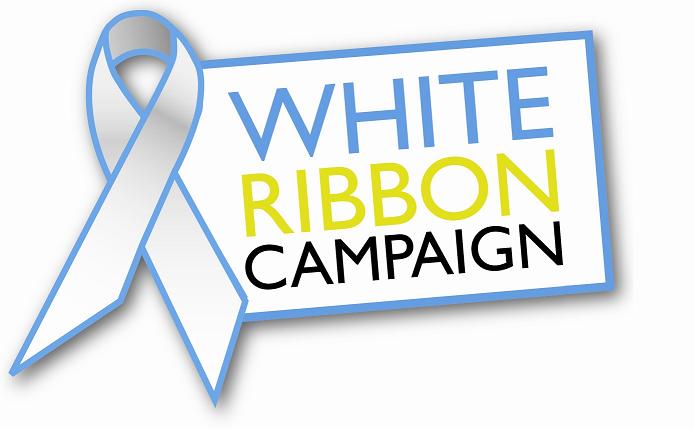 Calderdale Council is supporting White Ribbon Day, a national campaign being marked today (Tuesday 25 November) which aims to tackle domestic abuse.
The White Ribbon flag is flying at Halifax Town Hall all day today, highlighting the Council's pledge to never condone or remain silent about physical violence and other forms of abuse against women. Council staff will be handing out information in and around the Town Hall from 2pm to 3pm to raise awareness of the campaign.
The Council continues to work hard to raise awareness of domestic abuse and the services available to those affected by it – and more steps are to be taken. It is part of the Domestic Abuse Partnership – a group of local organisations raising awareness in our communities; holding abusers accountable; and supporting victims whatever their need, whether it's a place of refuge, reporting a crime, or just someone to talk to. The Police, the NHS, Pennine Housing and WomenCentre are among the partners.  
As a White Ribbon accredited employer, the Council has appointed three directors as White Ribbon Ambassadors and adopted a staff policy on domestic abuse. This means that staff are clear on how to identify the issue, speak out about concerns and ensure safety.
To support people affected by domestic abuse, the Council continues to fund 21 apartments at Calderdale Women's Refuge, provided by contractor Stonham, as well as personalised support for women and men affected by abuse.
The Council has been working with other organisations to get a better understanding of domestic abuse in Calderdale, and to find out where help is needed most. This highlighted key areas where domestic abuse services can be improved – including identifying potential issues and supporting people as quickly as possible; working more closely with partners such as the Police; and developing a perpetrator programme to help reduce re-offending.
To help make these improvements the Council, the Police, the Clinical Commissioning Group and Pennine Housing have submitted a bid for funding from the Government's Transformation Challenge Award. The outcome of the bid should be known in late November or early December.
Calderdale Council's Leader, Cllr Stephen Baines, said:
"Domestic abuse has devastating effects on individuals, families and communities. We take the issue extremely seriously and are sending out a strong message that it will not be tolerated in Calderdale. It's one of the main causes of homelessness locally; incidents of domestic abuse are increasing; over a third are repeat incidents; and an estimated 5,179 women and girls aged between 16 and 59 have been victims of domestic abuse in Calderdale in the last year. We are working with other organisations to raise awareness of the issue and urge residents to speak out if they are suffering domestic abuse."
White Ribbon Day(external link) is inspired by The White Ribbon Pledge led by men who campaign to stop domestic violence against women.
For details of where to get support, please visit Domestic violence.