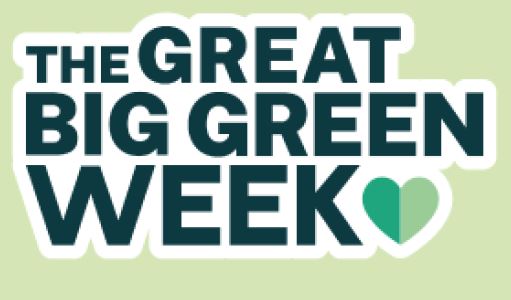 Calderdale Council is taking part in a nationwide campaign this September to draw attention to climate change, whilst also thinking about how we can all take care of the world around us.
The national climate action campaign, known as the Great Big Green Week runs from 18-26 September and highlights the need for urgent action on climate and nature ahead of COP26, the United Nations climate talks, later this year in Glasgow.
Calderdale Council declared a climate emergency in January 2019 and agreed to make the borough carbon neutral by 2038 or sooner – ahead of the Government's target of 2050. A recent report(external link) published by the United Nations' Intergovernmental Panel on Climate Change reinforced the importance of this ambitious target. 
To help meet these targets the Council has already introduced a number of initiatives, including the use of electric vehicles in the Council's fleet, additional electric vehicle charging points in the borough, LED streetlights installation, energy efficiency improvements in Council buildings, tree planting and insulation for low-income households.
As well has highlighting climate initiatives as part of activities for the Great Big Green Week, the Council is also demonstrating how littering can blight communities and impact on the natural environment around Calderdale.
On Monday 20 September, Council teams will demonstrate the vast amount of waste collected by Council workers in a normal weekend in Calderdale. All the waste collected will be deposited in one area to be photographed and weighed with the costings of disposing calculated – demonstrating the cost of littering.
 This will be followed by a clean-up event at Manor Heath Park from 1- 3pm where anyone is welcome to come along and help teams tidy up litter or support small gardening tasks. All volunteers will be issued with gloves, bags and litter pickers and will receive any help and direction required from Council workers.
 Volunteers should meet at 1pm on Monday 20 September at the Moor, Saville Park Road, Halifax. HX3 0EG.
The Manor Heath event follows a recent week of activities entitled 'Let's Clean Up Calderdale Together' which saw community clean ups take place across the borough. This included litter picks at West View Park and the HIMMAT Centre in Halifax, Norwood Green, Oaklands play area in Rastrick, Vale Baptist Church and the Addy in Mixenden. Further events for Calderdale staff were also held at Shibden Park, People's Park, Wellholme Park in Brighouse, Centre Vale Park in Todmorden and Heath Moor Park Road.
Calderdale Council's Cabinet Member for Climate Change and Resilience, Cllr Scott Patient, said:
"The national Great Big Green Week is an opportunity to highlight the issues we all face due to the impacts of climate change and how we all have the opportunity to take action."Whilst inspiring climate action is vital at an international level, our own individual actions can make more difference than people may think. We also want to draw attention to how activities such as littering can blight the natural environment and how we can all work together towards a greener future."
Calderdale Council's Cabinet Member for Public Services and Communities, Cllr Jenny Lynn, said:
"We're lucky to live in a place with such beautiful natural landscapes and it's important we do all we can to protect our environment and keep our green and open spaces litter free. "Part of the challenge of climate change is rethinking how we see our streets. We want our local areas to be places for us to walk, cycle and play; littering is not only unsightly, but it also prevents local areas from being places to enjoy spending time.  "As part of the Great Big Green Week we'll be highlighting the work of our teams who regularly empty public bins and clear up littering in public spaces. We'll also be hosting an event at Manor Heath, where everyone is welcome to join a focused effort to keep our parks green and clean."
The Great Big Green Week is being organised by The Climate Coalition, the UK's largest group of people dedicated to action against climate change, whose members include the National Trust, WWF, Women's Institute, Oxfam, and RSPB. Other organisations supporting the campaign included BT, British Mountaineering Council, and the Manchester United Foundation.
For further information about the Great Big Green Week, please visit www.greatbiggreenweek.com(external link)