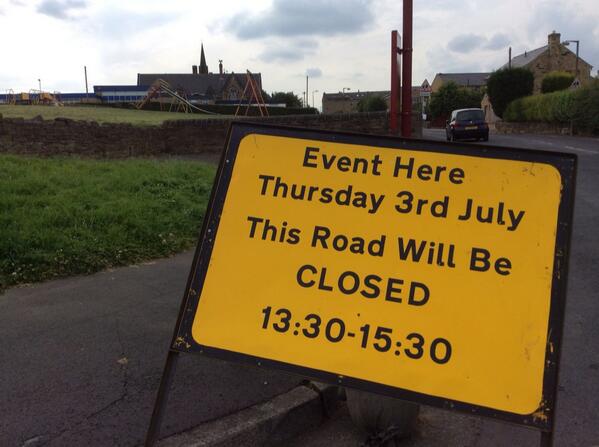 There's more than one bike race coming to Calderdale this week, as a Brighouse academy gets ready for the 'Tour de Clifton'. 
The Tour de France peloton will be cycling through Calderdale on Sunday 6 July, but children from St John's CE Academy, Clifton near Brighouse, will be taking part in their own peloton on Thursday 3 July for their special 'Tour de Clifton' event.
 The road next to the academy will be closed for part of the afternoon, so that pupils can cycle together in a peloton. Children of all cycling abilities will be taking part on bikes or scooters, experiencing what it's like to ride in a cycle race like the Tour de France, complete with traffic free roads. 
The children have designed a special t-shirt to wear and are receiving extra cycle training from the Calderdale Council's Cycle officers before the event 
To spur the children on, they will be watched by a crowd of parents and local residents, as well as some important invited guests. The Mayor of Calderdale, Cllr Patricia Allen is coming along, as well as Calder Valley MP Craig Whittaker. Brighouse councillors Cllr Scott Benton, Cllr Howard Blagbrough and Cllr Ann Martin will also be cheering on the children. 
The road will be closed at 1.45pm, with the first group of children setting off at 2.30pm from the Armytage Arms pub car park in Towngate, Clifton. The road will reopen at 3.30pm.
Calderdale Council's Cabinet Member for Children and Young People's Services, Cllr Megan Swift, said: 
"The children are tremendously excited about taking part in a road race, and while the terrain may not be as difficult, the setting will be in similar conditions to the Tour de France. 
"This Tour de Clifton will be a great way for the children to get involved and feel a part of the celebrations throughout Yorkshire for the Yorkshire Festival and the Tour de France." 
The Principal of St John's CE Academy, Helen Lever, said:
 "This should be a very exciting event; the whole aim of the afternoon is for all the children to have the opportunity to take part in their own road race and cycle in a peloton through their village. It doesn't matter whether they have stabilisers, balance bikes or scooters – as long as they enjoy themselves."