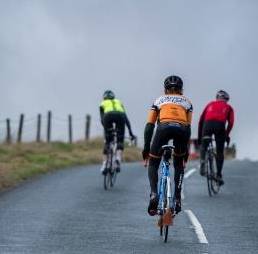 The weekend of the Tour de France in Calderdale will soon be upon us, and travel and parking  plans are being finalised all across Calderdale.
Visitors and residents are being reminded to plan where they want to watch the race and how to get there, before the race comes through Calderdale on Sunday 6 July.
Roads will be closed to vehicles from 6.30am on Sunday morning, but there are lots of ways of getting to the race including walking, cycling, public transport and by car.
Public transport services will be enhanced in order to get you to the route. Additional trains, including an earlier morning departure from Manchester, are operating over and above the normal Sunday service, with the following services running: 
Manchester – Halifax – Leeds (limited stop between Manchester and Todmorden)
Manchester – Hebden Bridge (all stops)
Leeds – Hebden Bridge (limited stop)
Blackpool – Halifax – Leeds – York
Blackburn – Halifax – Bradford
For full details of the rail service visit http://www.northernrail.org/travel/tour-de-france(external link) 
If you're thinking of travelling by bus, please be aware that a revised bus network is operating due to extensive road closures, with the following services not running at all: 500, 557, 559, 595, 597, 598, 599, 901 TLC, 906. Other services are in action, but may have revised routes, so it's best to check www.wymetro.co.uk(external link) for the most up to date information.
 Another option on the day is the Park and Ride service available from Savile Park, Halifax. The site opens from 6.45am, and has free parking spaces for over 5000 vehicles.  A frequent bus service to Mytholmroyd is being operated by First. Buses start running from 7am and the last return trip from Mytholmroyd is at 5pm. Fares are cash only and prices for the return journey are: Adults £4, Children £2, or a family tickets of 2 adults and 2 children or 1 adult and 3 children is £10. Please be aware that concessionary passes are not valid on this service.
 The Leader of Calderdale Council, Cllr Tim Swift, said: 
"Many people will already have made their plans for the weekend on the Tour, but we want to make sure that those who haven't yet decided where to watch know about changes to services and additional means of transport. 
"Of course even with the plans we are making, there are many parts of the route where it simply won't be possible to get there by vehicle, so you do need to build in plenty of time to continue your journey from your parking space or train station. 
"The Tour promises to be a fantastic event, and lots of planning has gone into making it a weekend to remember." 
There are more details about everything Tour related, including regularly updated information about travel, transport and road closure information on www.visitcalderdale(external link).com