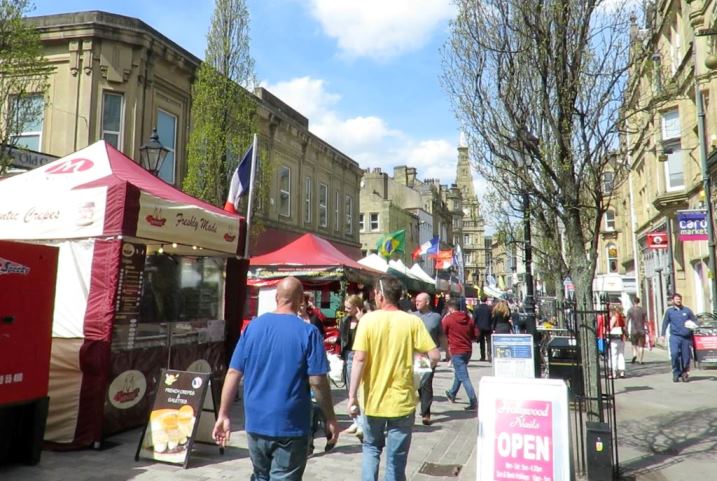 The award-winning International Market will be returning to Halifax again from Thursday 26 to Sunday 29 October. 
Traders from around the globe will set up stalls along Southgate, Corn Market, Russell Street and Woolshops with international cuisine, crafts and gifts  
Just some of the tasty flavours which will be drawing visitors in to the international event include Greek delicacies such as gyros and souvlaki; a traditional German Schwenkgrill selling bratwurst and currywurst; mouth-watering French crepes and galettes; Catalan cuisine, including tapas and paella; Pofitjes, the famous Dutch mini pancakes with loads of toppings and even ostrich and kangaroo burgers.  
As well as international street food there will be some great fresh foods on sale including olives, baklava, a vast array of dried fruit and nuts, freshly baked macaroons from Belgium; great French patisserie and famous French artisan bakery.   
But it's not all about food as there will be some great craft and gift stalls, offering some fantastic jewellery made from recycled silver cutlery; South American jewellery and knitwear, Italian silk scarves, handmade amber, crystal and gemstone jewellery and of course the famous Dutch Market Garden where you can wander through a huge array of shrubs, bulbs, beautiful plants and trees with some great garden ornaments.  
Calderdale Council's Cabinet Member for Regeneration and Economic Development, Cllr Barry Collins, said:  

"It's great news that the International Market is back in town for the second time this year. The market in May was really popular with a fantastic atmosphere and plenty of delicious foods from around the globe to sample. 

"This time the market arrives at a perfect time to get those unique gifts ready for Christmas, complementing the great products available at Calderdale markets."  
Opening hours of the International Market are:
Thursday to Saturday : 9am to 6pm
Sunday:  10am to 5pm