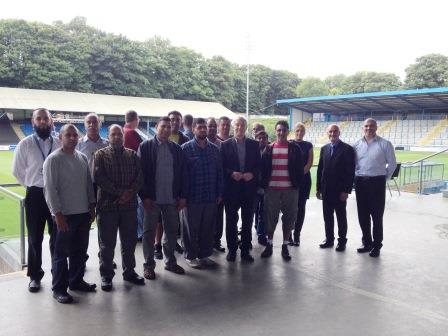 Nearly 700 taxi drivers and private hire licence holders in Calderdale have now received training on spotting and reporting signs of child sexual exploitation (CSE).  
Over 26 training sessions, organised by Calderdale Council's Licensing team, have been delivered already, with at least a further four in the pipeline.  
The compulsory training was introduced in May 2015 on the recommendation of its Licensing and Regulatory Committee. 
All drivers who currently hold a licence in Calderdale are required to attend the training and new applicants must successfully complete the course before their licence is issued.   
The Halifax Taxi Owners Association and the Private Hire Association have worked with Calderdale Council and West Yorkshire Police to plan the training, which is designed to improve customer service and protect members of the public and drivers.   
The four hour session covers the key areas of responsibility for licenced drivers.  The syllabus includes protecting children from CSE; domestic abuse; disability and access for all; keeping safe and reporting incidents; maintaining a safe vehicle and being an ambassador for Calderdale.   
Deputy Leader of Calderdale Council, Cllr Barry Collins said: 
"Taxi drivers spend their working days travelling around our towns. It's vital that if they ever see anything which concerns them, whether it's a child or an adult who seems to need help, they know what to do.  Thanks to this training, if they see something which makes them uneasy, they will know how to report it, helping us to keep our communities safe." 
The sessions are delivered by West Yorkshire Police, Calderdale Council, the Calderdale Safeguarding Children Board and Nadeem Mir, the former Chief Inspector for Greater Manchester Police.    
All existing holders of private hire, hackney carriage or dual badge licences have passed a knowledge test, which examines their understanding of the licence conditions and their geographical knowledge of the area.  They are now required to complete the new course to retain their licence.  
Once existing licence holders have successfully completed the course they will graduate and receive an attendance certificate at a civic reception at the Victoria Theatre on 21 October 2015.  The training is free for all current licence holders.  
Licence holders will need to complete the course every three years before their licence can be renewed.