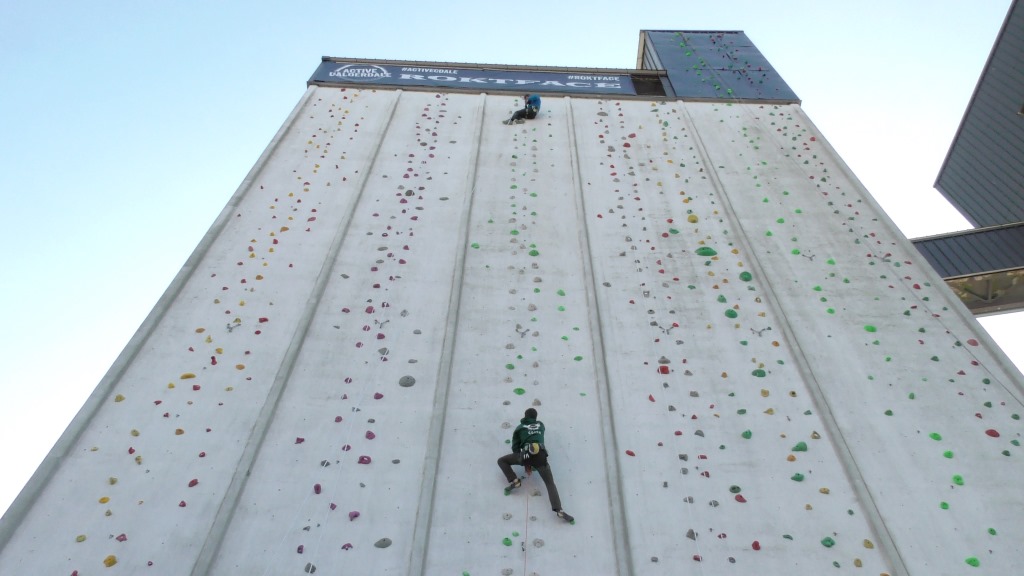 Press release with ROKT Climbing Centre
A terrifying tower has been created as the UK's highest man-made outdoor climbing wall prepares to open. 
Higher than both the Tower of London and the Angel of the North, the towering ROKTFACE wall at ROKT climbing centre in Brighouse, West Yorkshire, will now see people climb routes up to 36m. 
The climbing wall – roughly equivalent to a 12 storey building or seven double decker buses stacked on top of each other – has been grafted on to the face of a sky-scraping disused flour silo just months after climbing was finally confirmed as a sport in the Tokyo 2020 Olympics. 
The structure sits alongside the Calder and Hebble canal and specialist crews have spent the last three months drilling around 2,750 holes, resulting in around 21 different routes aimed at climbers ranging from amateurs to experts. The wall opens from May 14 onwards. 
The £75,000 project is being led by ROKT climbing centre in partnership with Calderdale Council to help raise the profile and participation of healthy activity as well as tourism for the area.  
It will give daredevils views of up to around 20 miles across Yorkshire – the UK's biggest county. 
Euan Noble, ROKT's Commercial Director, said:
"ROKTFACE is unique and there's nothing quite like it anywhere in the world, given its setting, its location and, of course, its height. Put simply, it's breath-taking.  

"It's been a long time coming, but thanks to the team at ROKT, Calderdale Council and other people who've believed in this project, we're turning dreams into reality." 
The routes have been set by Team GB junior climber, Luke Murphy, and range from 28m to 36m high.  
Luke, 19, from Hebden Bridge, said:
"It's been a really surreal experience – coming to work and hanging off the side of a giant tower setting routes. There's not many people get to say they work above the rooftops. 

"It's brilliant because it will draw attention to climbing and help raise its profile to so many more people. The Olympics are just around the corner and climbing will make its debut, so launching ROKTFACE now rather than waiting until after means we can be ahead of the curve. It's about getting the sport into the mainstream, because it's cool, it's fun and it's healthy exercise – so what's not to like?"
Euan added:
"On Boxing Day 2015, we were under several feet of water and some thought ROKT wouldn't survive. Just over a year on we are bigger, better and stronger than ever thanks to our customers and the community. It doesn't stop here, there's more to come with phase two already on the drawing board. Our Olympic-class training facility, Northlight, is set to open later this year which we hope will attract elite climbers from all over the UK.  

"We are embracing climbing's introduction into the next Olympics and during the coming months and years we will continue towards making ROKT and Halifax the adrenaline gateway to Yorkshire and maybe even the UK." 
The Mayor of Calderdale, Cllr Howard Blagbrough, said:
"I was delighted to attend the official launch of ROKT face, and I'm pleased the Council is supporting this innovative project and ROKT's ambitious plans for Brighouse.

"This is a great facility for the town, for Calderdale and beyond, and I'm sure the attraction will bring great economic benefits through the increased visitors to the area.

"It also supports our Active Calderdale vision – helping our residents to become more active however they choose."
ROKTFACE opens from May 14 with prices from £15 upwards depending on the competency of the climber.
 To find out more and for details on pricing see www.rokt.co.uk(external link)