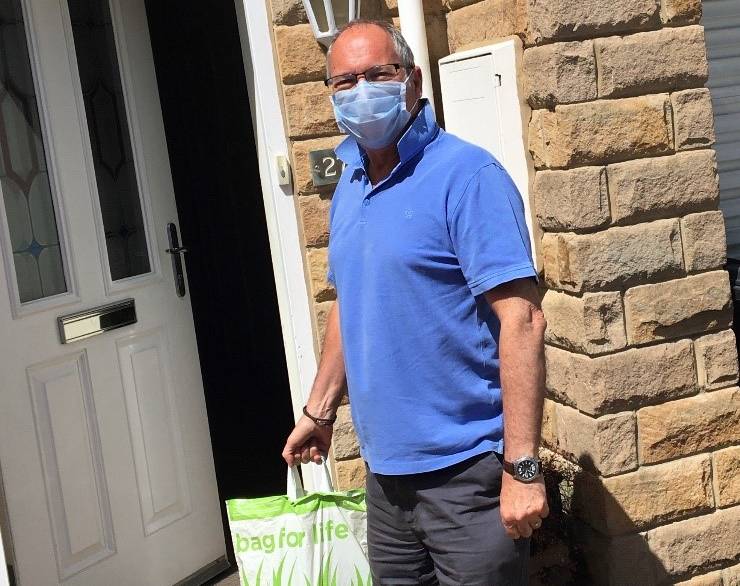 Wainhouse Tower will light up purple during Volunteers' Week(external link) (1 – 7 June), as part of a Calderdale-wide celebration of the fantastic contribution volunteers make to our communities.
Volunteers have been at the heart of Calderdale's kind and resilient response to some of the toughest times on record, including the COVID-19 pandemic and severe flooding. There are also many people who regularly volunteer but have been unable to do so during the pandemic, and will be there to lift our spirits during the borough's recovery.
To everyone who makes a difference through volunteering, Calderdale Council and the Voluntary Sector Infrastructure Alliance (VSIA) are joining forces to say a big thank you during this year's national Volunteers' Week.
The lighting up of Wainhouse Tower from 1 to 7 June will show the whole borough's gratitude for over 1000 people volunteering for the COVID-19 virtual volunteer hub in 2020, more than 800 charities and community organisations in Calderdale, over 300 people regularly volunteering with Council services, and everyone who gives their time to help others.
Cllr Scott Patient, Calderdale Council's Cabinet Member for Climate Change and Resilience, with responsibility for volunteering, said:
"This Volunteers' Week, we're teaming up with the Voluntary Sector Infrastructure Alliance to say the biggest thank you ever to Calderdale's incredible volunteers and community groups.
"In some very dark times recently, volunteers have been a real shining light, putting smiles on people's faces and supporting our most vulnerable residents.
"I'm really proud of the way our kind local people rally round to help each other, not just in a crisis but also in the day-to-day services that keep Calderdale at its best.
"We're excited to share the inspiring stories of local people doing amazing things to help others. The Council and VSIA's social media will be full of stories and thank you messages during Volunteers' Week, and we encourage you to share yours using the hashtag #VolunteersWeek."
Charlie Johnston, Volunteering Manager at the VSI Alliance, said:
"The past year has undoubtably been difficult for everyone and would have been even more so if it wasn't for the kindness and hard work of local volunteers.
"Volunteers have kept our communities connected and supported throughout the pandemic with food and medicine deliveries, phone befriending and not forgetting those who have volunteered with local organisations for years before.
"We really cannot thank them enough for everything they have done for their communities. All the plans for Volunteers' Week in Calderdale, including The Purple Light Up of Wainhouse Tower, are recognition and thank you for them and the shining lights they are!"
Recent research from Belong – The Cohesion and Integration Network found that people in Calderdale are 140% more likely to have been volunteering throughout the pandemic than people elsewhere in the UK, shining the national spotlight on Calderdale's kindness.
The Council continues to work closely with VSIA and other local organisations to support volunteers and create new opportunities in Calderdale. These opportunities and lots of advice will be shared during Volunteers' Week to raise awareness of the many ways to help out and to encourage more people to come forward.
Anyone interested in finding out more about volunteering in Calderdale is welcome to book on to the virtual information session run by the Council and VSIA on Wednesday 2 June, 10.30am – 11.30am. To book, please email elaine.duffy@vsialliance.org.uk
A range of other volunteering-related virtual sessions will also take place during Volunteers' Week, including a workshop for people who are interested in volunteering but don't know where to start. For dates, times and booking details, please visit www.vsialliance.org.uk/events-listing(external link) and follow @VSIAlliance on Twitter.
Information is available all year round on the Council's volunteering web page: https://calderdale.gov.uk/v2/residents/jobs-and-volunteering/volunteering/ and at www.vsialliance.org.uk/volunteering(external link)
Calderdale's first ever Volunteers' Week pin badge has been designed by a local volunteer and will be available free of charge to Calderdale voluntary and community organisations who would like to give them to their volunteers to say thank you. The badges will be available after Volunteers' Week and can be ordered at info@vsialliance.org.uk
Adrian's volunteering story
At the start of the pandemic, Adrian signed up to volunteer with Calderdale's COVID-19 virtual volunteer hub. He was one of over 1000 people who came forward to help the most vulnerable people in our communities. He gave up his time every week for months in 2020 to shop for four Calderdale residents who were shielding.
Adrian said:
"I believe the time I spend on these tasks is insignificant to me but can make a big difference to those shielding, including the social interaction to help in difficult times. It makes me realise how fortunate I am to be able to do it."
12 months on, Adrian is still volunteering through the Calderdale Hub and is busier than ever, including a role as a telephone befriender with Staying Well and a COVID Champion with VSIA.
Calderdale Lighthouse
Calderdale Lighthouse provides essentials for struggling families and is run entirely by volunteers. Since lockdown began, it has supported 415 family members. One of the volunteers said:
"Just knowing, if the work I do can help one family with my input as a volunteer, it makes me feel worthy as a human. We can all be kind to others who are in need. [Calderdale Lighthouse has] a great bunch of volunteers / friends which I can call family."
Diane Barker, one of the people who set up Calderdale Lighthouse, added:
"Having our precious volunteers back in our unit safe and double vaccinated has made our hearts swell!"
Keep an eye on social media throughout Volunteers' Week for all things volunteering, including more inspirational stories from local people. Follow @Calderdale, @VSIAlliance and #VolunteersWeek.
Volunteering is the perfect example of the Vision2024 for Calderdale themes of kindness and resilience. It spreads the borough's amazing community spirit, and helping others makes people feel great and more resilient.
The year 2024 marks Calderdale's 50th birthday. Where do we want to be by 2024? Find out more at www.calderdale.gov.uk/vision