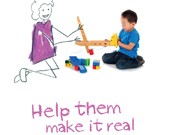 This week is National Adoption Week (Monday 17 – Sunday 23 October 2016) and as part of this Calderdale Council is stepping up its campaign with additional advertising around the borough. It's also asking people to think about different options, including fostering to adopt.  
Foster to adopt is otherwise known as Early Permanence Placement (EPP). EPP gives people who are looking to adopt, the opportunity to parent a child or baby (often from birth or soon after), allowing them to be part of the infant's life from the beginning.   
If carers choose this route to adoption, they would need to be approved as foster carers as well as adopters, as they would be fostering the child in the first instance, while care/court proceedings and assessments of birth family are ongoing. 
There is more uncertainty in this route, as the court could decide that returning the child to the birth family is the best plan for the child's future. However careful consideration goes into deciding if foster to adopt is the most appropriate option for the child, so the majority of children do go on to be adopted by their carers. 
With any route of adoption, the Council provides lots of help for adopters, including training and one-to-one support. We also work closely with the group of Yorkshire and Humber adoption agencies, to match children with the adopters and home that is right for them. 
Julie and Sue's story 
One couple who have recently gone through the foster to adopt process, is Julie and Sue*, who said: 
"For us, as a same sex couple, adoption was our first choice when it came to thinking about starting a family. We had been together for over five years and had recently got married. We arranged to attend an Adoption Information Evening at Calderdale to find out what would be involved and how to start the process.

"The adoption landscape has changed in recent years and after approval as adopters, we were searching for a match for over 12 months before we decided to explore EPP. This is when a child who cannot stay with their birth parents is fostered, which may progress to adoption. This meant that we fostered our little girl, Emily*, to begin with and first met her at the hospital when she was one day old. She has lived with us from that day and we have gone through all the stages that are involved, including fostering and then finally adoption. 

"Fostering for us meant that Emily had contact with her birth parents twice a week. This contact continued until the Court granted a Placement Order, as they decided that adoption was the best outcome for Emily. EPP focuses on the best interests of the child. Therefore, even though it was at times stressful and worrying for us as a couple, we focused on what was best for Emily. 

"We feel that EPP was the best option for Emily and for us as adopters. For Emily it has meant that she will never have to move from one foster carer to another and then finally to her adoptive family. We have shared her early days, so will be in a strong position to answer many questions that she will have when she gets older. We have met her birth parents, so we can talk to her about them when she is ready to talk about her story. 

"Going through EPP has been hard at times, but the support offered from Calderdale helped us manage the process every step of the way. It is by no means an easy journey, we had to think about the possible outcomes and how this could affect us as a couple and as individuals. Support from friends and family is essential and their understanding helps when going through the placement. 

"Now we have adopted Emily we are looking forward to settling in as a family and watching Emily develop as a happy little girl. 

"We would recommend that anyone considering adoption looks at the option of EPP and see if it is a route that they could follow." 
Cllr Megan Swift, Calderdale Council's Cabinet Member for Children and Young People's Services, said: 
"This National Adoption Week we want to remind people that there are different routes to adopting a child and our adoption team will be able to offer advice to help potential adopters find the best option for them. 

"It doesn't matter if you're single, in a relationship or civil partnership, working or not, and there is no upper age limit. Our friendly and experienced team will support you every step of the way, through training and ongoing adoption support services." 
If you are interested in adopting please visit www.calderdale.gov.uk/adoption
 *names have been changed