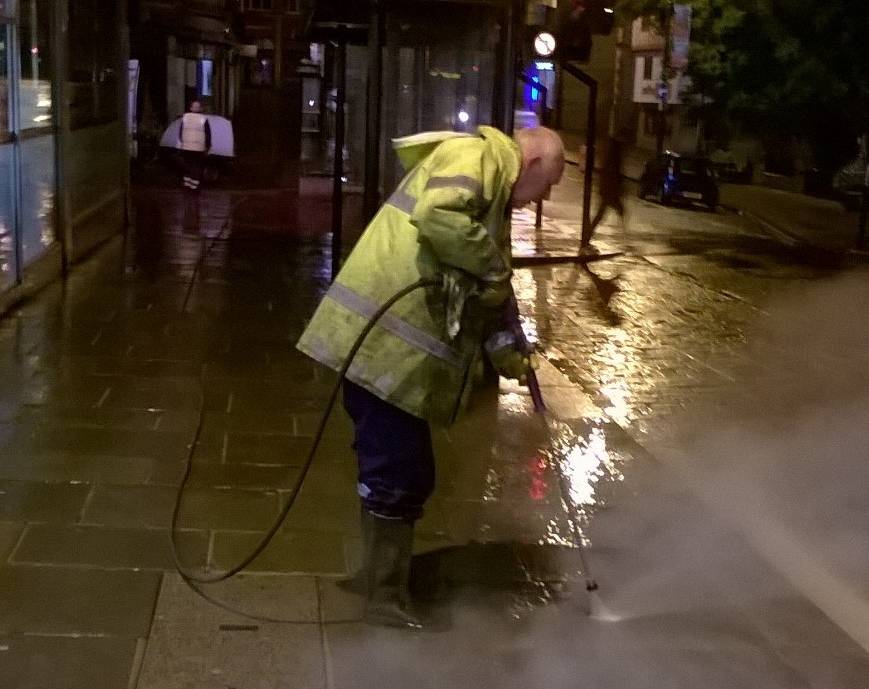 An army of staff from Calderdale Council and the emergency services are taking to the streets of Halifax on a mission to clean up the town centre and make it an even better place to be.
In a week of targeted action from Sunday 23 to Saturday 29 October, the Council, West Yorkshire Police and West Yorkshire Fire and Rescue Service are stepping up their day-to-day work to help make Halifax:
Safer
Activities will include tackling problem parking, safety checks at nightclubs and bars, food inspections and crime prevention work.
Cleaner
Teams will be out litter picking, removing chewing gum, emptying bins, replacing damaged bins, jet washing pavements and removing graffiti.
Greener
Teams will be giving advice on recycling, pest control, active travel and reducing air pollution.
Every day, Council teams do a wide range of work that people may not always be aware of. Some jobs, such as street cleaning, may be done in the early hours of the morning, while others, like pest control, licensing and road safety, may not be seen directly but they all contribute to making Calderdale a great place to live and visit.
Cllr Tim Swift, Calderdale Council's Leader, said:
"Local people have told us that they think tackling problems like litter, graffiti, dog fouling and parking are amongst the most important things they want the Council to do. During our week of action we are building on the everyday work of the Council and our partner organisations by making it really visible, cracking down on a range of important issues and highlighting that we take residents' concerns seriously.

"We want Calderdale to be the best borough in the North, so it's vital to make our towns and villages as safe, clean and green as possible. Everyone plays a part in this. The week of action is about prevention as well as clean ups and enforcement, and we'll be helping people to make a difference – for example, by explaining the benefits of driving at 20mph and how to report fly-tipping."
There will be an information stall at Southgate in Halifax town centre on Friday 28 October from 12 noon to 4pm, where people will be able to talk to experienced staff about a range of issues, from waste, recycling and pest control, to healthy living advice covering diet, smoking, alcohol and being active.
Martyn Greenwood, Calderdale District Commander, West Yorkshire Fire and Rescue Service, said:
"During the half-term break the Fire and Rescue Service will be supporting Safer Cleaner Greener teams in cleaning up Halifax town centre. As we are approaching Bonfire Night, the week of action will also help us to identify and remove any waste presenting risk to property."
Rachel Bairstow, Chief Inspector Partnerships, West Yorkshire Police, said:
"The week of action gives us a great opportunity to highlight the work the partnership is doing 24 hours a day to keep Calderdale safe, clean and green.

"We're supporting activities across the week and running specialist operations to tackle issues such as nuisance driving in the town centre, and highlighting the problems caused by inconsiderate parking to vulnerable pedestrians such as visually impaired people. You'll be able to visit the Guide Dog sensory experience on Tuesday at Southgate to experience first-hand how it feels to be visually impaired, something that really makes you think twice about causing an obstruction, which could have a significant impact on a person's well-being.

"We'll also be highlighting Halifax's Purple Flag status, with the town still being the only one in West Yorkshire to hold the award for a safer night out. Officers will also be continuing their crackdown on nuisance and antisocial drivers across the district, after seizing over 40 vehicles for no insurance in the last three weeks alone.

"Keep an eye out and you may also see our Mounted Section on patrol in the town centre, don't forget to stop and say hello and find out about the range of work they do. We all have our part to play in keeping Calderdale safe, green and clean and somewhere we can all enjoy living, working and bringing up our families."
Keep updated during the week of action and beyond by following the Council on Twitter @Calderdale. Updates, photos and videos will be shared using the hashtag #CleanCdale. A summary of the week, including photos, will also be available on the Week of action web page.   
Further weeks of action will be carried out in other parts of Calderdale in the coming months.