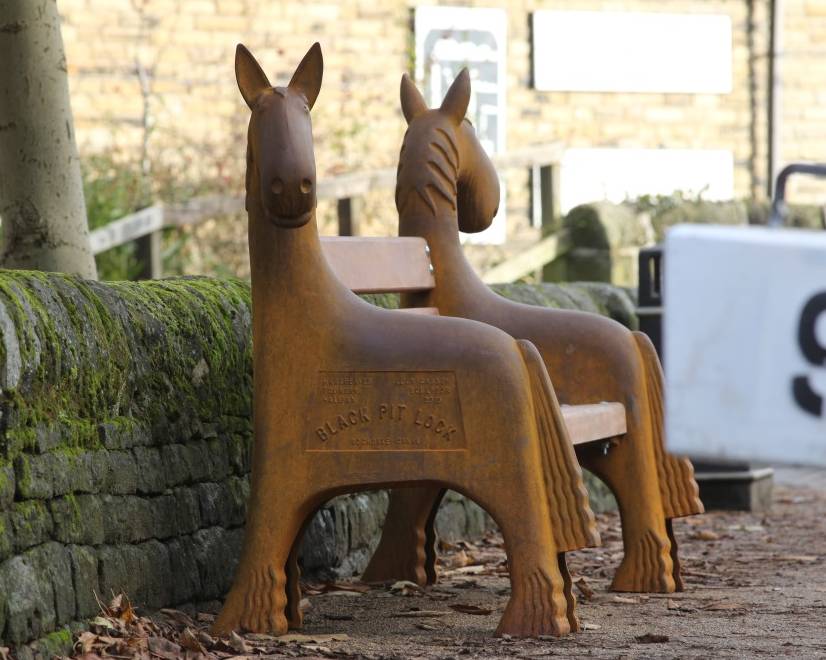 A community project to bring the Rochdale Canal to life has taken the crown in a national award recognising fantastic work to transform the country's historic canals and rivers.
Towpath improvements, unique artwork, engaging signage, stunning wildflowers and canal-side events have helped make the Rochdale Canal and its surrounding area an exciting place to live, learn and spend time. It's thanks to the wonderful teamwork of Calderdale Council, Pennine Prospects, the local community and Canal & River Trust.
Their inspiring long-term project – Rochdale Canal Connections – won the Art and Interpretation category in the Living Waterways awards, run by Canal & River Trust. It stood out as a leading example of how to raise awareness of canals and bring their stories and natural environment to life.
The project was driven by the community, with volunteers dedicating huge amounts of time to attend meetings, make decisions, collect facts and figures, comment on and contribute to designs, attend consultations and organise events.
Key stretches of the canal through the centres of Todmorden, Hebden Bridge, Mytholmroyd and Luddendenfoot have been improved, with new access points, better surfaced towpaths and new seating areas, planting and stylish signage. These stretches were once muddy, neglected and difficult to access, but are now clean and inviting places that are seeing a significant boost to visitor numbers.
A key feature of the project has been the installation of a number of unique pieces of art, designed to tell the story of the canal's heritage and local environment. Different artists were commissioned to work with local communities to create the artwork, which complements the canal-side setting. Local materials, including recycled car brake discs, were used to create the artworks – which range from a seat in the shape of two horses in Hebden Bridge and stone barges in Luddendenfoot, to a hawk sculpture in Mytholmroyd reflecting the poetry of locally-born Ted Hughes. Funding for the artwork was made available through the South Pennines LEADER programme (Rural Development Programme for England), which is jointly funded by Defra and the European Union, and managed by Pennine Prospects.
Cllr Scott Benton, Calderdale Council's Cabinet Member for Corporate Asset and Facilities Management, Housing and Environment, said:
"We're thrilled that our wonderful community project has won this prestigious award. It's thanks to the support and dedication of local people and organisations. The project's name, Rochdale Canal Connections, is very fitting – the canal work has inspired and truly connected our community. It's also a celebration of our local heritage, reflecting all that's great about our canals and surrounding areas.

"All the new features have been enthusiastically received by the local communities that helped shape the designs, and they continue to provide a popular focal point for visitors to the Rochdale Canal."
Pam Warhurst, Chair of Pennine Prospects and the South Pennine LEADER programme said:
"The Living Waterways Award is fantastic news for the Rochdale Canal – which is such an important feature of the South Pennines landscape. I am delighted that the local community has been able to benefit so successfully from the funding provided by the South Pennines LEADER programme."
Lucy Rogers, Enterprise Manager at Canal & River Trust, said:
"I am delighted that Rochdale Canal Connections has won this national Living Waterways Award. It gives recognition for the years of hard work and dedication given by many local volunteers and partners to bring this project to fruition. The project has enabled us to share and bring to life the amazing history of the Rochdale Canal and encourage more people to use and visit this beautiful waterway."
Visit the Canal & River Trust website at https://canalrivertrust.org.uk/(external link)