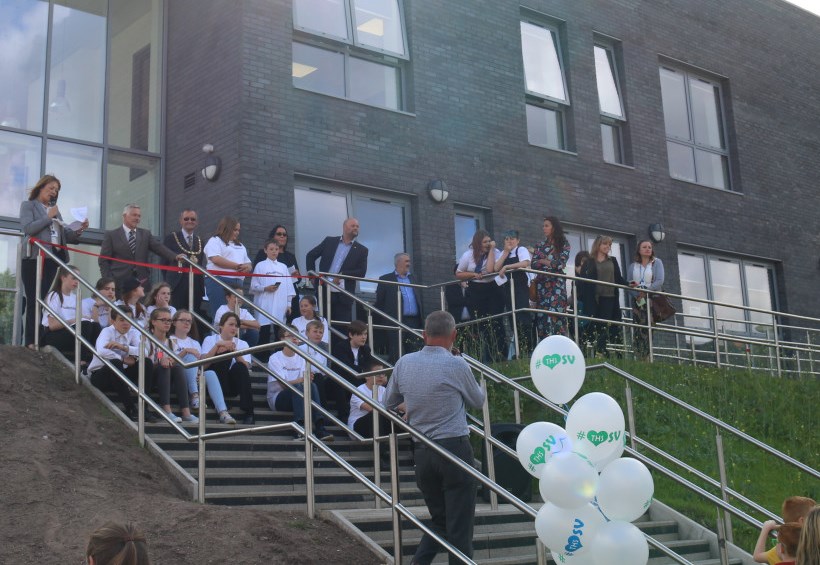 Celebrations have been taking place at Todmorden High School to mark the opening of the new state-of-the-art teaching block at the school.
The latest £4.6m Council investment at the school includes the new two-storey building with 16 classrooms, providing students with access to the resources and technology they need to continue making exceptional progress.
Work on site has also included stripping and re-roofing the majority of the flat roofs within the existing school.  The old English and Riverside blocks, which were in a very poor condition, have also been demolished and a new multi-use games area and car park has been created.
To celebrate the opening of the new building, Todmorden High School held a free fun day with the local community as well as friends and colleagues from further afield.
Visitors enjoyed live music with performances from talented pupils and bands from the local area, food and drink stalls, arts and crafts and an exhibition of A Level and GCSE students' artwork.
The event also saw the new teaching block officially named as Whirlaw View, which was chosen after considering a number of suggestions. It was also the opening of the new Peace Garden, a memorial garden to remember those lost.
Calderdale Council's Cabinet Member for Children and Young People's Services, Cllr Megan Swift, said:
"I was delighted to celebrate the opening of the new building at Todmorden High School. The new facilities are first class and will provide a wonderful environment for pupils to learn and achieve their best.

"The work at Todmorden High School is a major part of a wider programme of significant Council investment in schools across the borough, helping to provide the best possible learning experience for our young people."
Gill Shirt, Headteacher of Todmorden High School, said:
"It was a great pleasure to welcome everybody to the event. The day marked a momentous occasion; Going forward Todmorden High School looks to forge stronger links with our local community, including our parents and the local employers, we have a remarkable student body- many of whom have worked hard to prepare for this event- our thanks go out to them.

"As Headteacher of Todmorden High School, I am a representative of our school community, we are proud of Whirlaw View and we see this building as a symbol of hope and progress as our great school moves forward to provide our wonderful students with the best educational experience."
Headteacher Gill Shirt joined Calderdale Council's Director for Adult and Children's Services, Stuart Smith, and Todmorden Town Councillor and Mayor of Todmorden, Andy Hollis to cut the red ribbon and declare the building officially open. This followed a great introduction and appreciation speech given by special guest, fellow Headteacher Johnny Mitchell of Educating Yorkshire fame.
ENDS